Never Said Goodbye
Cerys Matthews
Never Said Goodbye
Cerys Matthews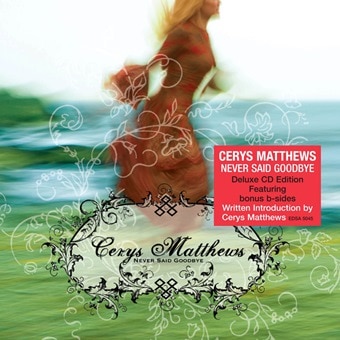 Release information
Release information
Label: Edsel
• Format: CD
• Date: 29/06/2015
Cat#: EDSA5045
• Barcode: 740155504533
• Genre: Pop, Rock
Track Listing
Streets Of New York
A Bird In Hand
Oxygen
Open Roads
This Endless Rain
Blue Light Alarm
Morning Sunshine
Seed Song
What Kind Of Man
Ruby
Elen
Open Roads [edit]
Soul Love
Grace Cathedral Hill
About this release
"Never Said Goodbye" is the second solo album recorded by Cerys Matthews in 2006, in Nashville, her adopted home for a number of years at that time. Up until 2000, Cerys had fronted the band Catatonia and enjoyed years of chart success, selling over 3 million records. Her debut album "Cockahoop" (2003) had explored her love of roots, folk and Americana music.
"Never Said Goodbye" saw Cerys assemble a new band of Nashville players and deliver an ambitious album of intricate arrangements, more pop-rock, but a rich mix of sounds that stands the test of time. Two songs were co-written with Gruff Rhys from Super Furry Animals.
This deluxe edition re-issue has the additional inclusion of the non-album b-sides (including a cover of David Bowie's "Soul Love"), and a personal introduction written by Cerys Matthews.