Neil Sedaka – Gold
Neil Sedaka
Neil Sedaka – Gold
Neil Sedaka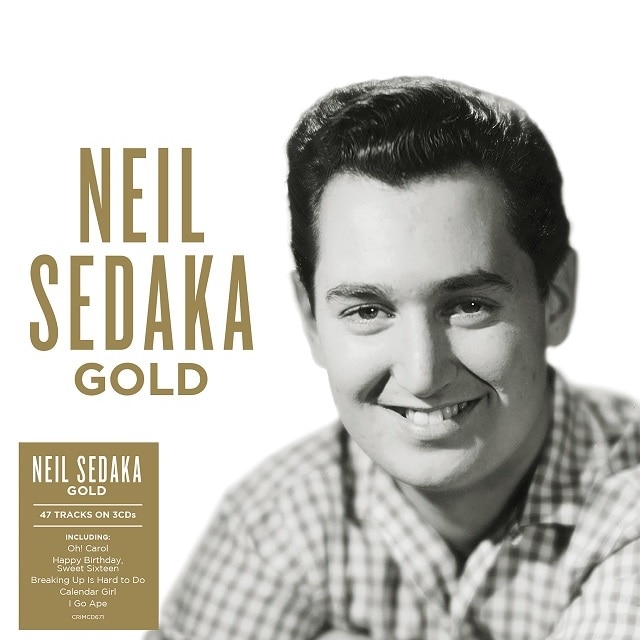 Release information
Release information
Label: Crimson Productions
• Format: CD
• Date: 07/08/2020
Cat#: CRIMCD671
• Barcode: 0654378067129
• Genre: Pop
Track Listing
Oh! Carol
Calendar Girl
Happy Birthday, Sweet Sixteen
Breaking Up Is Hard to Do
Stairway to Heaven
Little Devil
I Go Ape
King of Clowns
Next Door to an Angel
The Diary
No Vacancy
Moon of Gold
Crying My Heart Out for You
All I Need Is You
Stupid Cupid
Fallin'
The Girl for Me
One Way Ticket (To the Blues)
You Gotta Learn Your Rhythm and Blues
Going Home to Mary Lou
You're Knockin' Me Out
I Belong to You
As Long As I Live
I Waited Too Long
Another Sleepless Night
Without Your Love
You Mean Everything to Me
Run Samson Run
What Am I Gonna Do
I Ain't Hurtin' No More
Smile
Sweet Little You
We Kiss In a Shadow (From "The King and I")
Another Day, Another Heartache
Walk With Me
Alice In Wonderland
Let's Go Steady Again
Bad Girl
The Dreamer
Waiting for Never (La Terza Luna)
Look Inside Your Heart
Sunny
Fly Me to the Moon
Because of You
The Answer to My Prayer
The World Through a Tear
Solitaire
About this release
Crimson presents Neil Sedaka 'Gold' the only Neil Sedaka compilation you'll ever need. 47 tracks celebrating Neil's early chart topping success in Rock 'n' Roll.
A classical trained pianist Neil wrote many of his hits. He started out his career as a teen pop sensation in the late 1950s and early 1960s. During this time Neil scored 9 top 30 UK hits chart hits, as well as being a huge success in the US.
CD 1 features chart toppers such as 'Oh! Carol' and 'Happy Birthday, Sweet Sixteen' (both UK 3), 'I Go Ape' (UK 9), 'Stairway to Heaven' (UK 9), 'Calendar Girl' (UK 8), 'Little Devil' (UK 9), 'King of Clowns' (UK 23).
CD 2 continues with up-beat rock 'n' roll tracks such as 'I Ain't Hurtin' No More', 'You Gotta Learn Your Rhythm and Blues', 'Fallin', 'Going Home to Mary Lou'.
CD3 features several ballads including 'Solitaire', 'Smile', 'Another Day, Another Heartache'.