My Song – 50th Anniversary Edition (Signed Exclusive)
Labi Siffre
My Song – 50th Anniversary Edition (Signed Exclusive)
Labi Siffre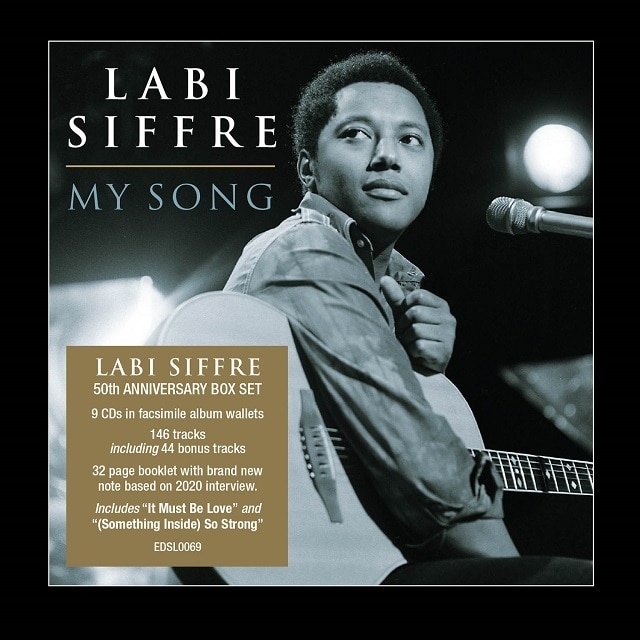 Release information
Release information
Label: Edsel
• Format: CD
• Date: 04/09/2020
Cat#: EDSL0069X
• Barcode: 5014797903500
• Genre:
Track Listing
Too Late
Words
Something On My Mind
Maybe Tomorrow
You And I Should Be Together
I Don't Know What's Happened To The Kids Today
I Love You
Make My Day
A Little More Line
Maybe
River
Love Song For Someone
I Just Couldn't Live Without Her
Maybe When We Dance
Ask Me To Stay
Here We Are
There's Nothing In The World Like Love
You're Lovely
A Number Of Words
Who Do You See?
Not So Long Ago
The Shadow Of Our Love
When I'm On My Own You Are On My Mind
Rocking Chair
Interlude
Thank Your Lucky Star
Talkabout
Relax
Bless The Telephone
Summer Is Coming
Goodbye
Saved
Cannock Chase
Fool Me A Goodnight
It Must Be Love
Gimme Some More
Blue Lady
Love Oh Love Oh Love
Crying, Laughing, Loving, Lying
Hotel Room Song
My Song
Till Forever
Come On Michael
To Find Love
Watch Me
Why Did You Go, Why Did You Leave Me?
You Make It Easy
Good Old Days
Pristine Verses
You'll Let Me Know
For The Lovin'
Somesay
Children Of Children
Entertainment Value
Odds And Ends
Prayer
Let's Pretend
Someday
If You Have Faith
For The Children
Give Love
So What
Oh Me Oh My Mr City Goodbye
Last Night Tonight
I Got The
Another Year
Down
Old Time Song
The Vulture
Dreamer
Sadie And The Devil
Turn On Your Love
Remember My Song
Run To Him
The Love Thing
Nightmare
Love-A-Love-A-Love-A-Love-A-Love
You Hurt Me
Doctor Doctor
Second Time Around
Would You Dance?
Supaluvva
Staride To Nowhere
You've Done Something To My Heart
Sally Came To Stay
La-De-Da-De-Da (Lost Without Your Love)
You've Got A Hold On Me
Do The Best You Can
Hot And Dirty In The City
Solid Love
One WorldSong [by Labi & Jackie]
We Got Love [by Labi & Jackie]
Listen To The Voices
Nothin's Gonna Change
I Will Always Love You
All I Wanna Do
And The Wind Blows
(Something Inside) So Strong
Lovers
Hard Road
I'm Alright
When You're Lonely
The Secret
Never Let You Down
Tragical History Tour
(Something Inside) So Strong [live at The Prince's Trust Concert]
Listen To The Voices [piano version]
Nothin's Gonna Change [long version]
(Something Inside) So Strong [complete version US promo]
City Of Dreams
Most People Sleep Alone
A Matter Of Love…
Lovers In Arms
All Fall Down
Reason
When Lights Are On
Sensible Betrayal In The City
Wash Away Your Troubles In Love
Schooldays
City Of Dreams [new version]
Reason [live version]
City Of Dreams [new version – extended 12" version]
Samaritans
The Dead Don't Matter
Everything
Little Boy Baby Blue
Lose Myself In You
Why Isn't Love Enough?
Sparrow In The Storm
Face To Face (A Paper Regret)
The Life I Got
Rainbow Moon
This Is It
Clinging To The Ledge
A Kiss In The Mirror
The Song To Sing
Everything [the OlaZayZoss™ remix]
(Love Is Love Is Love) Why Isn't Love Enough?
About this release
This exclusive edition contains a photo personally signed by Labi Siffre, limited to Just 500 copies
A 9CD collection entitled 'My Song' is the first and definitive Labi Siffre box-set and is released to celebrate  50 years of an outstanding musical career.
A total of 146 recordings – compiled by Labi and including 44 bonus tracks – together with a 32-page picture booklet in which Labi speaks candidly about his career.
Containing all of Labi's nine albums: Labi Siffre (1970) The Singer and The Song (1971)  Crying Laughing Loving Lying (1972) For The Children (1973) Remember My Song (1975) Happy (1975)  So Strong (1988)  Man of Reason (1991) and The Last Songs (1998), all of which presented individually in its own CD wallet facsimile of the original album sleeve artwork.
It was in 1970 that Labi released his debut album, the eponymously titled "Labi Siffre" and during that decade a further five albums would follow, from which he scored hit singles with "It Must Be Love", "Crying Laughing Loving Lying" and "Watch Me". It was in 1981 that the British group Madness enjoyed a top-5 hit with their version of "It Must Be Love", a song which to this day continues to feature as an essential musical ingredient of celebrations of every kind.
Following a break during the early 80s, Labi returned in 1987 with the powerful anti-apartheid anthem "(Something Inside) So Strong" a  song perennially appreciated around the world and reputed to be a favourite of Nelson Mandela. The album "So Strong" was followed in 1992 by Labi's penultimate album "Man Of Reason" and then in 1998 by his final album "The Last Songs" remastered in 2020 especially for this set and containing two newly recorded bonus tracks.
Today Labi's music is sampled by many; most notably his recording "I Got The…" sampled extensively by Eminem for his debut worldwide hit "My Name Is" and "My Song" sampled by Kanye West for one of his greatest hits "I Wonder".