Michael Bolton – Gold
Michael Bolton
Michael Bolton – Gold
Michael Bolton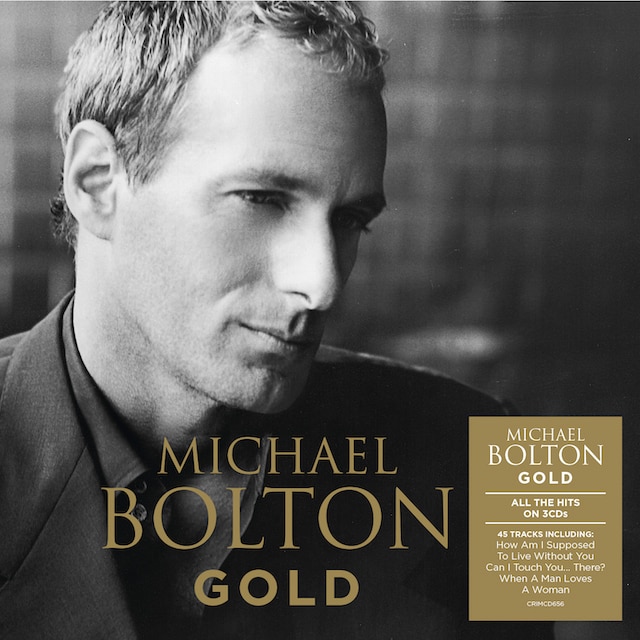 Release information
Release information
Label: Crimson Productions
• Format: CD
• Date: 08/11/2019
Cat#: CRIMCD656
• Barcode: 654378065620
• Genre: Pop
Track Listing
How Am I Supposed To Live Without You
How Can We Be Lovers
When I'm Back On My Feet Again
Soul Provider
(Sittin' On) The Dock Of The Bay
That's What Love Is All About
Walk Away
Gina
Georgia On My Mind
The Hunger
Fool's Game
Everybody's Crazy
I Almost Believed You
She Did The Same Thing
Wait On Love
When A Man Loves A Woman
Time, Love And Tenderness
Love Is A Wonderful Thing
Said I Loved You… But I Lied
Steel Bars
Missing You Now
Yesterday
Completely
Soul Of My Soul
Once In A Lifetime
I Found Someone
Love Is The Power
From Now On (with Suzi Benson)
Drift Away
Reach Out I'll Be There
To Love Somebody
Can I Touch You...There?
Lean On Me
The Best Of Love
Hold On I'm Coming
Since I Fell For You
Ain't Got Nothing If You Ain't Got Love
Sexual Healing
Whiter Shade Of Pale
(What A) Wonderful World
A Love So Beautiful
I Promise You
This River
Safe Place From The Storm
Ain't No Sunshine
About this release
Crimson Gold presents Michael Bolton 'Gold', the only Michael Bolton compilation you'll ever need
Michael Bolton is a multiple Grammy Award-winning singer-songwriter who has sold over 65 million records internationally and continues to perform to audiences across the globe
This definitive 3CD career spanning set features 45 tracks including a remarkable 17 UK Top 40 singles. Highlights include the top ten singles 'How Am I Supposed To Live Without You', 'When A Man Loves A Woman' and 'Can I Touch You…There?'
CD1 opens with the Grammy-Award-winning UK #3 hit single 'How Am I Supposed To Live Without You' which became a modern pop standard around the world.
CD2 features more top twenty singles including 'When A Man Loves A Woman' as well as the song 'Steel Bars' which Bolton co-wrote with Bob Dylan. Another highlight is Bolton's duet with with Suzi Benson on 'From Now On'.
CD3 includes the hit single 'Can I Touch You… There?' along with Bolton covering classic tracks such as 'Ain't No Sunshine', '(What A) Wonderful World' and 'Sexual Healing'.
Highlights are also available on a 1LP version, pressed on 180g gold-coloured vinyl