Message To You
The Soldiers
Message To You
The Soldiers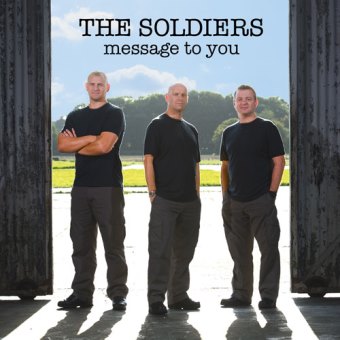 Release information
Release information
Label: DMG TV
• Format: CD, Digital
• Date: 24/10/2011
Cat#: DMGTV046
• Barcode: 5014797760462
• Genre: Easy Listening
Track Listing
I've Gotta Get a Message to You
Pipes of Peace
Make You Feel My Love
Right Here Waiting
Dance With My Father
If Tomorrow Never Comes
Better Be Home Soon
Do I Make You Proud
Desperado
Home Coming
For All Your Loved Ones
I'll Be There for You
Through the Barricades
You'll Never Walk Alone
About this release
DMG TV is proud to release The Soldiers album, 'Message To You'.
Sergeant Major Gary Chilton, Staff Sergeant Richie Maddocks and Lance Corporal Ryan Idzi, are actual
soldiers who have served in Iraq, Afghanistan and the Gulf War. In 2009, they soared into the Top 10 of the UK Albums Chart and into the hearts of the British public with their debut album 'Coming Home'.
They followed up that success with another Top 10 album in 2010.
Well on the way to selling a million units in the UK, The Soldiers are back with an incredible new album, 'Message To You'.
The album features fifteen new songs and is probably their best album musically, which is also enhanced with Robin Gibb's appearance on the single 'I've Gotta Get A Message To You'.
The songs have been carefully selected for their poignancy and meaning to the armed Forces and their
Families and include some absolute classics such as 'Right Here Waiting', 'Desperado', 'Pipes Of Peace and ends with a rousing version of the anthemic evergreen 'You'll Never Walk Alone'. There are also two stunning new songs.