A Mental Collection: Volume 1
Mental As Anything
A Mental Collection: Volume 1
Mental As Anything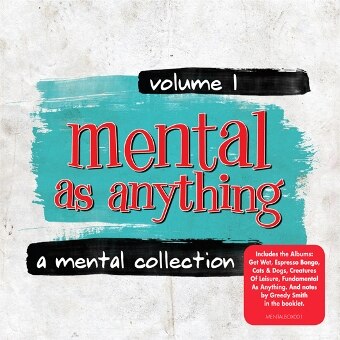 Release information
Release information
Label: Edsel
• Format: , Digital
• Date: 29/04/2016
Cat#: MENTALBOX001
• Barcode: 5014797894846
• Genre: Alternative, Rock
Track Listing
The Nips Are Getting Bigger
Spanish Gardener
Business & Pleasure
Sheilah
Possible Theme for a Future TV Drama Series
Talk to Baby Jesus
Egypt
Another Man's (Sitting in My Kitchen)
Can I Come Home?
Fringe Benefits
Insurance Man
Empty Hearts/Open Wounds
Love Is Not a Gift
Wolf at Your Door
Troop Movements In The Ukraine
Semi Trailer
Missing Plane
Insect Liberation
Won't Let Me Drive
Come Around
Harmonic Visions
Away
Cannibal
Blacktown To Bondi
The Girl
Live Now Pay Later
Too Many Times
Walking On Rails
If You Leave Me Can I Come Too?
Berserk Warriors
Let's Cook
Got Hit
Ready For You Now
Looking For Bird
Chemical Travel
Catalina's Reward
Psychedelic Peace Lamp
Sad Poetry
Hararei I Akarana
Spirit Got Lost
Float Away
Brain Brain
Bitter To Swallow
Close Again
Nothing's Going Right Today
Working For The Man
Fiona
Seems Alright To Me
Drinking Of Her Lips
Red To Green
Let's Not Get Sentimental
Business & Pleasure
You're So Strong
Big Wheel
Live It Up
Surf & Mull & Sex & Fun
Good Friday
Date With Destiny
Hold On
Stones Of The Heart
I Just Wanna Be Happy
Splashing
Bus Ride
About this release
Mental As Anything are an Australian New Wave/Pop rock band who formed at the art school they attended in Sydney. They are a typically good-time pop-rock outfit who's music often displays an ironic, satirical and self-deprecating sense of humour. They shot to domestic fame with hits such as The Nips Are Getting Bigger and If You Leave Me, Can I Come To? But their big international breakthrough came with the hit single Live It Up, which was Top 10 in the UK, Ireland, Germany and Norway.
This box contains the first 5 Mental As Anything albums; Get Wet, Espresso Bongo, Cats & Dogs, Creatures Of Leisure and Fundamental As Anything.
The booklet has notes by frontman Greedy Smith to accompany each album.
CD1 – Get Wet
CD2 – Espresso Bongo
CD3 – Cats & Dogs
CD4 – Creatures Of Leisure
CD5 – Fundamental As Anything