Megarama
Bananarama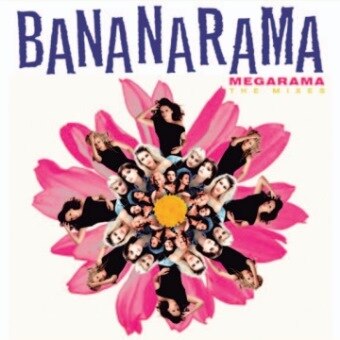 Release information
Release information
Label: Edsel
• Format: CD
• Date: 16/03/2015
Cat#: EDSK3027
• Barcode: 740155302733
• Genre: Pop
Sub Genre: Classic Pop
Track Listing
I Want You Back [Extended European Mix]
Love, Truth & Honesty [Dance Hall Version]
Nathan Jones [Extended Version]
Preacher Man [Shep's Club Mix]
I Heard A Rumour [Corporation Of Bananarama Mix]
Venus [The Greatest Remix]
Na Na Hey Hey (Kiss Him Goodbye) [Acid Remix '88]
Tripping On Your Love [The Sturm Mix]
Love In The First Degree [House Dub]
Movin' On [Snappin' Mix]
Help! [Extended Version] – with Lananeeneenoonoo
Megarama '89 [Dimitri's Full Length Version]
Nathan Jones [Dave Ford Mix]
Na Na Hey Hey (Kiss Him…) [Alternative 12" Mix]
Cruel Summer [Digital Mix]
Venus [Original 12" Mix]
More Than Physical [Original 12" Mix]
A Trick Of The Night [Tuesday Mix]
I Heard A Rumour [Wacky Vocal Dub]
Love, Truth & Honesty [Hot Power Mix]
Only Your Love [Original 12" Mix]
Tripping On Your…[The Loveable Love-Dove Caper]
Nathan Jones [Alternative 12" Mix]
Movin' On [Thumpin' Mix/Alt. 12" Mix]
Love In The First Degree [Eurobeat Style]
Shy Boy ['88 Remix]
Venus [Hellfire Mix]
I Heard A Rumour [Miami Mix]
Long Train Running [Pacha Mix]
Only Your Love [Youth & Thrash On The Mix]
A Trick Of The Night [Tricky Mix]
Ready Or Not [Jolley & Swain 12" Mix]
Nathan Jones [Psycho Mix]
Strike It Rich [Dub]
More, More, More [I Can't Techno More Mix]
Love, Truth & Honesty [Balearacidic Mix]
About this release
Following the huge success of our six 2CD + DVD album reissuesin 2013, Edsel now presents an accompanying 3 CD casebound book set, featuring thirty-six 12" mixes. None of these were included on the album re-issues, and indeed fourteen
of them are previously unreleased.
Put together with the co-operation of Bananarama, this package is compiled and annotated by acknowledged SAW expert Tom Parker.