Marc Bolan & T. Rex: The Final Cuts (RSD18 Vinyl)
T.Rex
Marc Bolan & T. Rex: The Final Cuts (RSD18 Vinyl)
T.Rex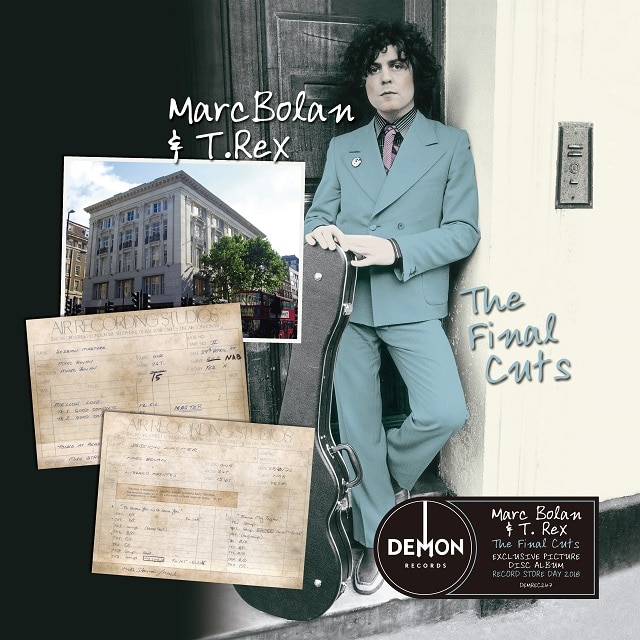 Release information
Release information
Label: Demon Records
• Format: Vinyl
• Date: 18/05/2018
Cat#: DEMREC247
• Barcode: 014797896666
• Genre: Rock
Sub Genre: Glam Rock
Track Listing
Hot George
Love & The Foxey Boy
Celebrate Summer
Love Drunk
Write Me A Song
Mellow Love
Dandy In The Underworld
Crimson Moon
To Know You Is To Love You
Tame My Tiger
Shy Boy
20th Century Baby
Tame My Tiger [Gloria Jones vocal]
Mellow Love [alternate version]
To Know You Is To Love You [instrumental]
About this release
This special picture disc LP is the first time this material has been issued on vinyl, and is presented in
a numbered die-cut sleeve.
Originally released in 2006, this album was put together from multi-track tapes that had been returned to Bolan's son Rolan. Recorded at AIR Studios Oxford Street location, these tapes had been kept by the studio receptionist in her broom cupboard in Weston-Super-Mare, southwest England in the intervening years. These tapes make up the bulk of the final recorded studio work from the final twelve months of Marc Bolan's life. With the addition of four tracks recorded at Decibel Studios in Stamford Hill in April 1977, the picture is almost complete and we can enjoy and understand more fully in context the direction in which Marc Bolan's music may have been heading as he approached his thirties. Seven of the twelve songs on this album were not released during Bolan's lifetime.