M People – Renaissance
M People
M People – Renaissance
M People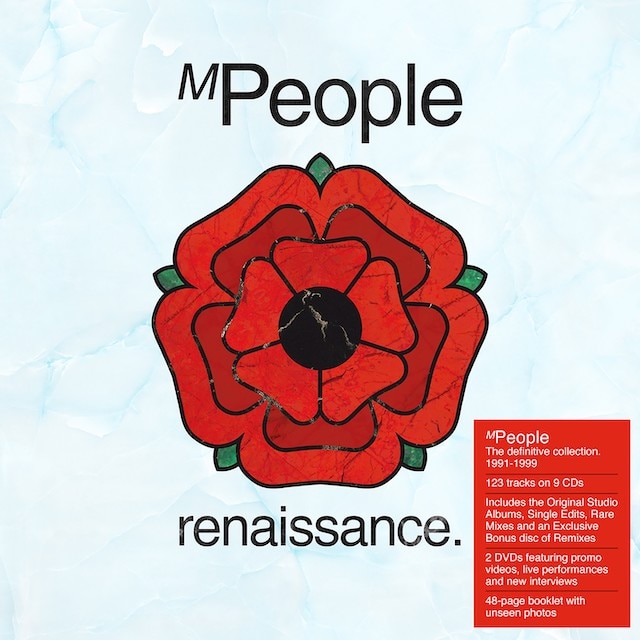 Release information
Release information
Label: Edsel
• Format: CD
• Date: 06/03/2020
Cat#: EDSL0041X
• Barcode: 5014797902022
• Genre: Pop
Track Listing
Colour My Life (Perfecto Mix)
How Can I Love You More?
Inner City Cruise
It's Your World
Sexual Freedom
Kiss It Better
Tumbling Down
Landscape Of Love
Life
Someday
Excited (M People Master Mix)
Man Smart
Platini
How Can I Love You More? (Sasha's Master Mix)
Someday (Sasha's Full Master)
How Can I Love You More? (Edit)
Colour My Life (Edit)
Someday (Edit)
Excited (Radio Edit)
Colour My Life (Original Mix)
Excited (M People Remix)
Someday (Part One)
Colour My Life (Part One)
Excited (Judge Jules Remix)
How Can I Love You More? (Sasha's Ambient Dub)
Someday (Sasha's Dub)
Colour My Life (DJ's Rule Mix)
Excited (MK T Mix)
How Can I Love You More? (Sasha's QAT Mix)
One Night In Heaven
Moving On Up
Renaissance
You Just Have To Be There
Love Is In My Soul
Don't Look Any Further
Natural Thing
Little Packet
La Vida Loca
Melody Of Life
One Night In Heaven (Hi Gloss Mix)
Renaissance (M People Master Mix)
Moving On Up (Tee's Freeze Mix)
Don't Look Any Further (Danny D Mix)
One Night In Heaven (Master Edit)
Moving On Up (M People Master Edit)
Don't Look Any Further (M People Master Edit)
Renaissance (Radio Mix)
One Night In Heaven (K-Klass Klub Mix)
Moving On Up (NY Underground Mix)
Renaissance (Roger S Revelation Mix)
One Night In Heaven (The Chicken Head Mix)
Moving On Up (MK Mix)
Renaissance (John Digweed's 4AM Mix)
One Night In Heaven (Pharmacy Dub)
Moving On Up (Roger's Harddub)
Renaissance (The S-Man's Dub Lift)
One Night In Heaven (M People Dub)
Sight For Sore Eyes
Search For The Hero
Open Your Heart
Love Rendezvous
Precious Pearl
Sugar Town
Walk Away
Drive Time
Padlock
… And Finally
Itchycoo Park (M People Master Mix)
Search For The Hero (M People Master Mix)
Love Rendezvous (M People Master Mix)
Search For The Hero (Dave Hall Remix) [aka 'US Remix by David "Jam" Hall']
Sight For Sore Eyes (Radio Mix)
Open Your Heart (Radio Mix)
Search For The Hero (Radio Mix)
Love Rendezvous (Radio Mix)
Itchycoo Park (Radio Edit)
Sight For Sore Eyes (Lee Marrow Remix)
Love Rendezvous (Paul Masterson Mix) aka (Wand's Uptight Mix)
Padlock (Junior Vasquez Tribal Vocal)
Open Your Heart (Luvdup Double Bangin' Dub) aka (Luvdup Dub)
Itchycoo Park (Hed Boys Post-Op Mix)
Love Rendezvous (Uno Clio Vocal Mix)
Open Your Heart (Armand's Sour Cream Mix)
Sight For Sore Eyes (E-Smoove Dub Mix)
Just For You
Fantasy Island
Never Mind Love
Last Night 10,000
Smile
Red Flower Sunset
Angel Street
Lonely
Rhythm And Blues
Believe It
Bohemia
Avalon
Testify (Radio Edit)
Dreaming
What A Fool Believes (Full-Length Version)
Baby Don't Change Your Mind (Live)
Just For You (Radio Edit)
Fantasy Island (Radio Edit)
Angel Street (Radio Edit)
Dreaming (Radio Edit)
Testify (Rae & Christian Remix)
Just For You (MM's R&B Edit)
Fantasy Island (D-Influence Dimensional Mix)
Angel Street (Joey Negro's Extended Disco Mix)
Dreaming (Genius 3 Underground Mix)
Fantasy Island (M+S Fantasy Klub Mix)
Just For You (Way Out West Remix)
Testify (Pablo's Dub)
Dreaming (Jimmy Gomez 6AM Dub)
Itchycoo Park (Morales Classic Club Mix)
Just For You (Frankie's Sanctified Anthem)
Fantasy Island (Classic Mix)
Dreaming (Morales Mix)
One Night In Heaven (The Heavenly Club Mix)
Fantasy Island (Def Club Mix)
Just For You (Hipshakers' Delight)
Itchycoo Park (Morales Beat Of Dubs)
Dreaming (Morales King Dub)
One Night In Heaven (The Late Night Dub)
How Can I Love You More?
Colour My Life
Someday
Excited
One Night In Heaven
Moving On Up
Don't Look Any Further
Renaissance
Sight For Sore Eyes
Open Your Heart
Search For The Hero
Love Rendezvous
Itchycoo Park
Just For You
Fantasy Island
Angel Street
Testify
Dreaming
How Can I Love You More? (1993 Version)
Excited (US Version)
Open Your Heart (US Version)
Excited (MK Mix)
One Night In Heaven (Morales Mix)
Coming Home (Mike, Paul and Shovell in conversation, 2018)
Moving On Up
Natural Thing
Love Is In My Soul
Someday
1993 Interview (part 1/ 2/3/4)
Opening Montage
Love Rendezvous
Excited
Drive Time
Colour My Life
Walk Away
Little Packet
One Night In Heaven
Sight for Sore Eyes
Moving On Up
Sight For Sore Eyes
Moving On Up
Search For The Hero
Itchycoo Park
One Night In Heaven
About this release
M People became one of the worlds biggest dance and pop groups from the 1990s, selling more than 11 million records, 2 Brit Awards and a Mercury Prize. Featuring the unmistakable voice of Heather Small joining Paul Heard, Shovell and founder Mike Pickering
The 9CD + 2 DVDs is a career spanning boxset featuring:
All four original studio albums remastered
Each album expanded with single edits and rare remixes on an accompanying CD
Double discs presented in a gatefold sleeve with original artwork
Exclusive bonus disc of remixes by Frankie Knuckles and David Morales
DVD 1 featuring all the bands iconic promo videos and a new interview
DVD 2 includes energised live performances (some previously unreleased) from 1993, 1994 and 1996, in their hometown of Manchester
48 page colour booklet with images of the early-line up through to later years and never before published images
The band accumulated a staggering 20 top 40 singles including 'Moving On Up', 'One Night In Heaven', 'Sight For Sore Eyes', 'Search For A Hero', 'Just For You', 'Renaissance' and 'Natural Thing'. Winning the 1994 Mercury Music prize for Elegant Slumming was seen as a key event in the history of dance music. This boxset showcases all the albums from Northern Soul, Elegant Slumming, Bizarre Fruit, and Fresco. Each album includes bonus tracks and is accompanied by a second disc with single edits and remixes.
Extra information about this release
Recommended titles