Loving And Free + I've Got The Music In Me
Kiki Dee
Loving And Free + I've Got The Music In Me
Kiki Dee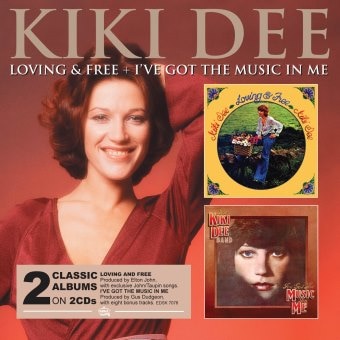 Release information
Release information
Label: Edsel
• Format: CD
• Date: 02/02/2015
Cat#: EDSK7078
• Barcode: 740155707835
• Genre: Pop
Track Listing
Loving And Free
If It Rains
Lonnie And Josie
Travelling In Style
You Put Something Better Inside Of Me
Supercool
Rest My Head
Amoureuse
Song For Adam
Sugar On The Floor
The Last Good Man In My Life
Hard Luck Story
Everyone Should Have Their Way
Six Days On The Road
I've Got The Music In Me
Someone To Me
Step By Step
Water
Out Of My Head
Do It Right
Little Frozen One
Heart And Soul
You Need Help
Simple Melody
(You Don't Know) How Glad I Am
Peter
Once A Fool
About this release
After singles and albums with the Fontana and Motown labels through the 60s, Kiki Dee signed to Elton John's brand new Rocket Records label in 1973.
"Loving And Free" was produced by Elton and features him and his backing band on John/Taupin originals that he never recorded himself. Also featured are several of Kiki's own compositions, a first for her. "I've Got The Music In Me", issued in 1974, features the perennially popular title track, a song that remains Kiki's signature song.
This slipcased two-album pairing also contains eight bonus tracks, all non-album single tracks, as well as photos and full annotation.
CD1 – Kiki Dee 'Loving And Free' (Bonus Tracks 11-14)
CD2 – The Kiki Dee Band 'I've Got The Music In Me' (Bonus Tracks 10-13)