Live at the Hotel Utah Saloon (140g Red Vinyl)
Black Francis
Live at the Hotel Utah Saloon (140g Red Vinyl)
Black Francis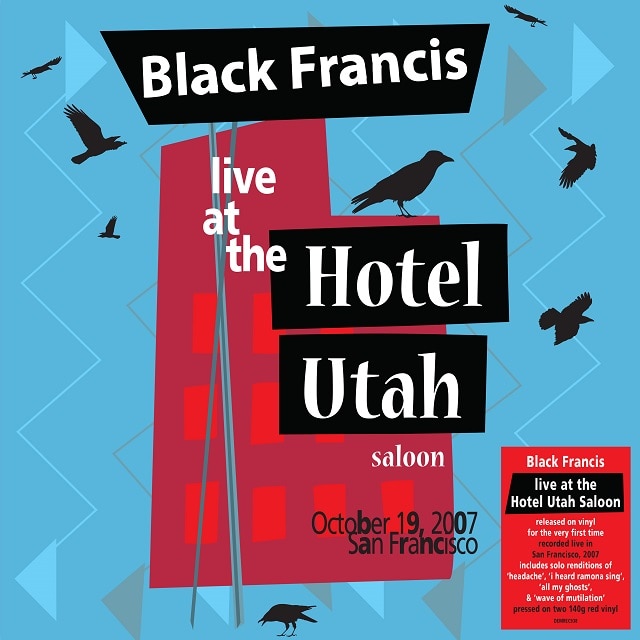 Release information
Release information
Label: Demon Records
• Format: Vinyl
• Date: 23/07/2021
Cat#: DEMREC938
• Barcode: 5014797906129
• Genre: Alternative, Indie, Rock
Track Listing
I Burn Today
Old Black Dawning
Bluefinger
Horrible Day
Do What You Want (Gyaneshwar)
Velouria
Tight Black Rubber
Space Is Gonna Do Me Good
Headache
Angels Come To Comfort You
All My Ghosts
The Water
Wave Of Mutilation
Massif Central
I Heard Ramona Sing
Bullet
Test Pilot Blues
The Holiday Song
She Took All The Money
Dead Man's Curve
Brackish Boy
Sir Rockabye
Mr. Grieves
Your Mouth Into Mine
I'll Be Blue
Broken Face
Nimrod's Son
Jumping Beans
Cactus
About this release
Demon Records is proud to present a new series of vinyl reissues from American singer songwriter Black Francis / Frank Black.
Previously only available as an ultra rare USB drive release, Demon Records presents the first reissue of 'Live At The Hotel Utah Saloon'. Recorded in 2007, the album captures an intimate solo performance by Black Francis at San Francisco's historic Hotel Utah Saloon venue. Featuring renditions of songs from across the Black Francis / Frank Black catalogue including 'Headache', 'I Heard Ramona Sing', 'All My Ghosts' and 'Wave Of Mutilation.
This reissue features a brand new remix of the complete show by Jason Carter and is pressed on two 140g red vinyl.