Leo Sayer: The Complete UK Singles Collection 1973-1986
Leo Sayer
Leo Sayer: The Complete UK Singles Collection 1973-1986
Leo Sayer
Release information
Release information
Label: Edsel
• Format: CD
• Date: 25/03/2016
Cat#: LEOSINGBOX01
• Barcode: 5014797894761
• Genre: Pop, Rock
Track Listing
Why Is Everybody Going Home
Quicksand
The Show Must Go On
Tomorrow
Long Tall Glasses
In My Life
Moonlighting
Streets Of Your Town
You Make Me Feel Like Dancing
Magdelena
When I Need You
I Think We Fell In Love Too Fast
How Much Love
I Hear The Laughter
Thunder In My Heart
Get The Girl
There Isn't Anything I Wouldn't Do
World Keeps On Turning
Dancing The Night Away
Tell Me Just One More Time
I Can't Stop Loving You (Though I Try)
No Looking Back
Raining In My Heart
Don't Look Away
When The Money Runs Out
Takin' The Easy Way Out
The World Has Changed
Oh Girl
Once In A While
Living In A Fantasy
Where Did We Go Wrong
Millionaire
More Than I Can Say
Only Fooling
Heart Stop Beating In Time
The End Of The Game
Bye Bye Now My Sweet Love
You Win – I Lose
She's Not Coming Back
Once In A While
Have You Ever Been In Love
I Don't Need Dreaming Anymore
Til' You Come Back To Me
Train
Sea Of Heartbreak
Easy To Love ('84)
Dreaming 3.40
Real Life
The Girl Is With Me
Unchained Melody
Heart For Sale
Thunder In My Heart Again (Radio Edit)
Thunder In My Heart Again (Miami Calling Mix)
Thunder In My Heart Again (Miami Calling CD Mix)
Thunder In My Heart Again (Hott 22 Mix)
Thunder In My Heart Again (Hott 22 Dub)
Thunder In My Heart Again (Starlet DJs Groove Deluxe Mix)
Thunder In My Heart Again (Starlet DJs Dub)
When I Need You
You Make Me Feel Like Dancing
Raining In My Heart
How Much Love
Dancing The Night Away
Thunder In My Heart
I Can't Stop Loving You (Though I Try)
One Man Band
Giving It All Away
Train
Let It Be
Long Tall Glasses (I Can Dance)
Moonlighting
The Show Must Go On
About this release
Singer, songwriter, performer, artist, photographer Leo Sayer had ten UK hits in the 1970s, including a run of seven consecutive Top 10 hits from his debut hit in 1973 'The Show Must Go On'.
This extensive anthology, features all of his UK singles from 1973-1986 in mini-vinyl replica wallets, which have been sourced from around the world, in this 30CD box set, including the Transatlantic #1 single, 'When I Need You'.
The box set also includes 2 BONUS CDs; the 2006 UK No. 1 Single Meck feat. Leo Sayer 'Thunder In My Heart Again' and Leo's 1979 UK No. 1 LP 'The Very Best Of Leo Sayer'. The booklet includes a 4,000+ word liner note by renowned music journalist and author, Chris Welch.
Recommended titles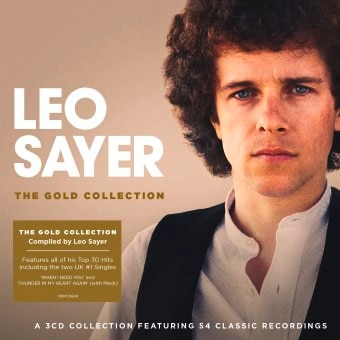 Leo Sayer - The Gold Collection