Learning To Crawl
Pretenders
Learning To Crawl
Pretenders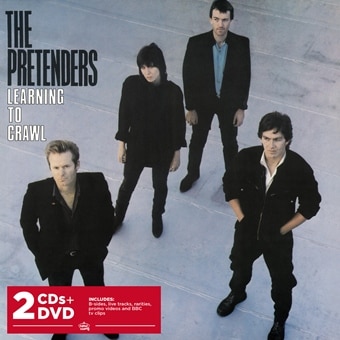 Release information
Release information
Label: Edsel
• Format: CD, DVD & Blu-ray
• Date: 16/02/2015
Cat#: EDSG8049
• Barcode: 740155804930
• Genre: Pop, Rock
Sub Genre: New Wave, Punk
Track Listing
Middle Of The Road
Back On The Chain Gang
Time The Avenger
Watching The Clothes
Show Me
Thumbelina
My City Was Gone
Thin Line Between Love And Hate
I Hurt You
2000 Miles
Fast Or Slow (The Law's the Law)
Money [live]
Time The Avenger [live]
Bad Boys Get Spanked [live]
My City Was Gone [live]
Tequila
I Hurt You [August 1982]
When I Change My Life [August 1982]
Ramblin' Rob [August 1982]
Watching The Clothes [August 1982]
Back On The Chain Gang
2000 Miles
Middle Of The Road
Show Me
Thin Line Between Love and Hate
2000 Miles - rehearsal and interview [Breakfast Time, December 1983]
2000 Miles [TOTP, December 1983]
About this release
Tragedy struck the band in 1982 with the loss of two members to drug overdoses. Chrissie Hynde and drummer Martin Chambers carried on with assistance from Rockpile guitarist Bill Bremner before recruiting Robbie McIntosh and bassist Malcolm Foster.
Issued in January 1984, third album "Learning To Crawl" was preceded by hit singles "Back On The Chain Gang" and "2000 Miles", and also contained the cover of The Persuaders' "Thin Line Between Love And Hate".
The ten bonus tracks include b-sides, live tracks and demos, while the DVD features five promo videos, along with two BBC TV appearances from Breakfast Time and Top Of The Pops. The booklet in this digipak edition features all the lyrics for the first time, the singles sleeves and photos.
CD1 – Learning to Crawl (tracks 1-10),
CD2 – B-sides/Live (tracks 1-6), Demons (tracks 7-10)
DVD – Promo Videos (tracks 1-5), BBC TV Appearances (tracks 6-7)
Extra information about this release