Kris Kristofferson – Gold
Kris Kristofferson
Kris Kristofferson – Gold
Kris Kristofferson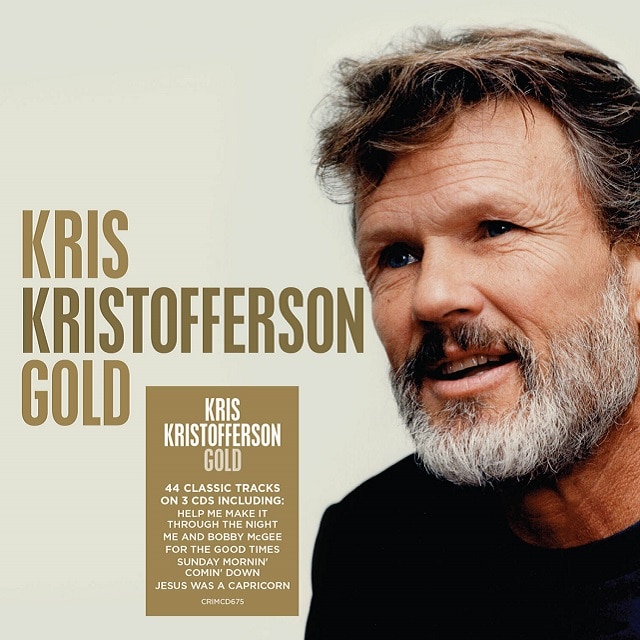 Release information
Release information
Label: Crimson Productions
• Format: CD
• Date: 20/11/2020
Cat#: CRIMCD675
• Barcode: 0654378067525
• Genre: Country
Track Listing
Help Me Make It Through The Night
Me And Bobby McGee
Sunday Morning Comin' Down
The Pilgrim: Chapter 33
Jody And The Kid
For The Good Times
Loving Her Was Easier (Than Anything I'll Ever Do Again)
The Silver Tongued Devil And I
Casey's Last Ride
Breakdown (A Long Way From Home)
To Beat The Devil
Blame It On The Stones
Kiss The World Goodbye
When I Loved Her
Nobody Wins
Jesus Was A Capricorn (Owed To John Prine)
Josie
Why Me
Border Lord
The Taker
Enough For You
Help Me
It Sure Was (Love) [Kris Kristofferson & Rita Coolidge]
Jesse Younger
Easy Come On
Lover Please [Kris Kristofferson & Rita Coolidge]
Give It Time To Be Tender [Kris Kristofferson & Rita Coolidge]
Out Of Mind Out Of Sight
I May Smoke Too Much
They Killed Him
El Coyote
Love Is The Way
Here Comes That Rainbow Again
Forever In Your Love
Lay Me Down (And Love The World Away)
The Year 2000 Minus 25
Easter Island
The Sabre And The Rose
Magdalene
Shake Hands With The Devil
The Golden Idol
Prove It To You One More Time Again
Nobody Loves Anybody Anymore
From The Bottle To The Bottom
About this release
Inducted into the Country Music Hall Of Fame in 2004, Kris Kristofferson's place in music history is assured as the writer of such classics as "Help Me Make It Through The Night", "For The Good Times", "Me And Bobby McGee" and "Sunday Mornin' Comin' Down", all included here.
These songs have been huge hits for the likes of Gladys Knight, Elvis Presley, Frank Sinatra, Perry Como, Al Green, Andy Williams, Dolly Parton, Kenny Rogers, Janis Joplin, the Grateful Dead and Johnny Cash. Kristofferson has also had hits with his songs in own right, including the duets "It Sure Was (Love"), "Lover Please" and "Give It Time To Be Tender" with his wife Rita Coolidge. And these recordings were made by Nashville's top producers: Fred Foster, David Anderle, Dennis Linde, Chips Moman and Norbert Putnam.
This 3CD, 44 track compilation is the essential Kris Kristofferson compilation.
Extra information about this release