Knowing Me Knowing You – The Complete Radio Series (Coloured Vinyl)
Alan Partridge
Knowing Me Knowing You – The Complete Radio Series (Coloured Vinyl)
Alan Partridge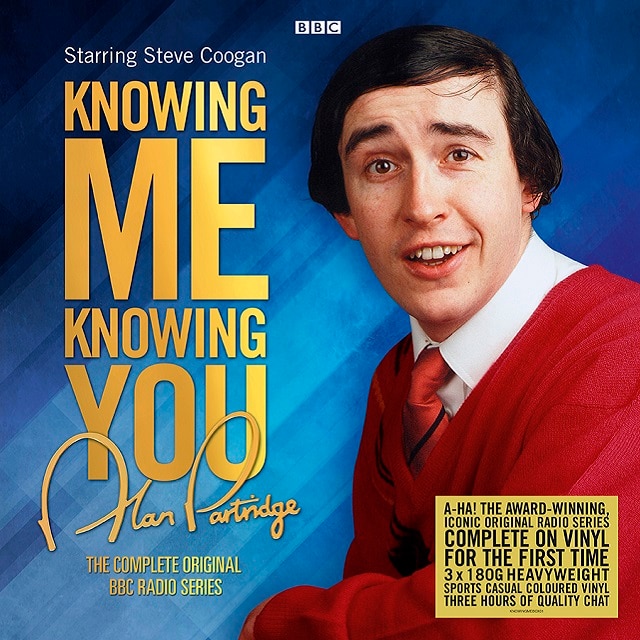 Release information
Release information
Label: Demon Records
• Format: Vinyl
• Date: 25/01/2019
Cat#: KNOWINGMEBOX01
• Barcode: 5014797897724
• Genre: Soundtrack
Track Listing
Alan Partridge interviews Lawrence Camley, Ally Tennant, 'Linda', 'Peter', Adam Wells
Alan Partridge interviews Simon & John Fisher, Janey Katz, Nick Ford
Alan Partridge interviews Michel Lambert, Shirley Dee, Chris Lester, Phil Collins
Alan Partridge interviews the Duchess of Stranraer, Steve Thompson, Sandra Peaks MP, Craig & Matt Bradley
Alan Partridge and Kendall Ball interview Sally Hoff, Conrad Knight, Bernie Rosen, Jack 'the Black Cat' Calson
Alan Partridge interviews Tony Hayers, Trudy Sky, Yvonne Boyd, Lord Morgan of Glossop
About this release
Available for the very first time on vinyl, Demon Records proudly present every ruddy word of 'Knowing Me
Knowing You', the complete award winning BBC Radio 4 Series (1993 Gold Award winner).
This is the series that really introduced the cultural icon that is Alan Partridge to the mainstream, leading to his TV chat show, two series of 'I'm Alan Partridge', 'Mid Morning Matters', the Partridge movie 'Alpha Papa', and his subsequent return to the BBC in 2019.
I'm Alan Partridge, I am sports-casual
First broadcast in December 1992, and written by Steve Coogan and Patrick Marber, featuring addition material from Armando Iannucci.
"Welcome to Knowing Me, Knowing You. Knowing me Alan Partridge, knowing you — the you — the audience."
Starring Steve Coogan, Patrick Marber, Doon MacKichan, Rebecca Front and David Schneider. Including all 6
episodes, presented on coloured heavyweight 180gm vinyl, all presented in a ruddy marvellous lift off lid box featuring original artwork.
"post-modern Partridge – Alan Partridge is the apotheosis of the three minute culture. In his hands the essentially complex becomes inordinately simplistic" –
The New Statesman
Extra information about this release