Kiki Dee + Stay With Me
Kiki Dee
Kiki Dee + Stay With Me
Kiki Dee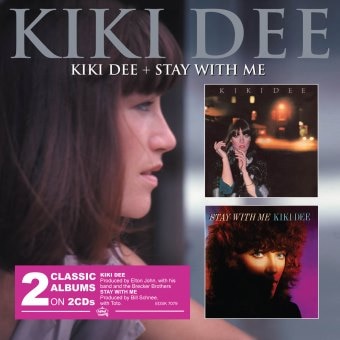 Release information
Release information
Label: Edsel
• Format: CD
• Date: 02/02/2015
Cat#: EDSK7079
• Barcode: 740155707934
• Genre: Pop
Track Listing
How Much Fun
Sweet Creation
Into Eternity
Standing Room Only
Bad Day Child
Chicago
Night Hours
Keep Right On
In Return
Walking
First Thing In The Morning
The Man Who Loved To Dance
One Step
Talk To Me
Don't Stop Loving Me
Dark Side Of Your Soul
Stay With Me
One Jump Ahead Of The Storm
You're Holding Me Too Tight
Love Is A Crazy Feeling
Safe Harbor
About this release
After singles and albums with the Fontana and Motown labels through the 60s, Kiki Dee signed to Elton John's brand new Rocket Records label in 1973. This package includes her third and fourth albums, from 1977 and 1978.
Produced by Elton John and Clive Franks, 'Kiki Dee' features the hits "Chicago" and "First Thing In The Morning" and includes musical contributions from the Brecker Brothers and David Sanborn, as well as James Newton-Howard and Davey Johnstone and Dee Murray from Elton's band.
'Stay With Me' was produced in Los Angeles by Bill Schnee and was recorded with the musicians who became Toto, with string arrangements from legends Marty Paich and Gene Page.
This slipcased two-album pairing also contains a bonus track, as well as photos and full annotation.
CD1 – Kiki Dee
CD2 – Stay With Me