Keep On Movin': The Best Of Five
Five
Keep On Movin': The Best Of Five
Five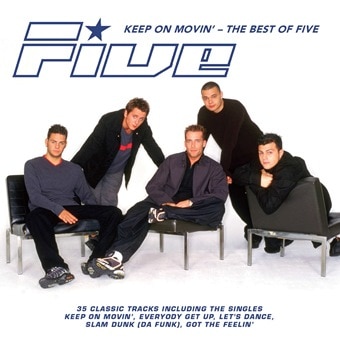 Release information
Release information
Label: Music Club Deluxe
• Format: CD
• Date: 19/02/2016
Cat#: MCDLX215
• Barcode: 5014797672154
• Genre: Pop
Track Listing
Everybody Get Up
Slam Dunk (Da Funk)
Keep On Movin'
Got the Feelin'
When the Lights Go Out
Partyline 555-on-line
If Ya Gettin' Down
Feel The Love
It's The Things You Do
Serious
Two Sides To Every Story
Satisfied
Hear Me Now
Battlestar
That's What You Told Me
It's All Over
Invincible
Rock The Party
Let's Dance
Closer to Me
On Top Of The World
Inspector Gadget
It's Alright
Breakdown
When I Remember When
Until the Time Is Through
C'Mon C'Mon
How Do Ya Feel
You Make Me A Better Man
Lay All Your Lovin' On Me
Everyday
Let's Get It On
We're Going All Night (You Make Me High)
All Around
Don't Wanna Let You Go
About this release
Five were brought together by the same team that delivered The Spice Girls. They signed to RCA in 1997 and in four years clocked up 11 consecutive Top 10 hit singles, including 3 #1s and 3 that peaked at #2. That achievement was record breaking.
Each of Five's three studio albums charted in the Top 5 albums as well, selling in the millions worldwide, and, back at Christmastime 2001, their Greatest Hits package also charted Top 10. Through this successful period Five were Sean Conlon, Ritchie Neville, Scot Robinson, 'Abs' Breen and 'J' Brown. In 2006, four of the band reformed for a hugely successful tour but no recordings were released. They reunited once again in 2012 for the ITV show and 2013 tour 'The Big Reunion', and they continue to work as a three piece outfit featuring Ritchie, Scott and Sean.
This 2CD set includes all those singles and over these 35 tracks, Five show what a consistently strong pop band they were.