Keep 'Em Coming: The Collection
Status Quo
Keep 'Em Coming: The Collection
Status Quo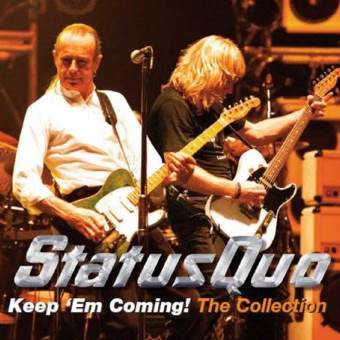 Release information
Release information
Label: Music Club Deluxe
• Format: CD
• Date: 17/02/2017
Cat#: MCDLX225
• Barcode: 5014797672253
• Genre: Rock
Track Listing
The Party Ain't Over Yet
Fun Fun Fun (With The Beach Boys)
Under The Influence
Keep 'Em Coming
I Knew The Bride
Get Back
Sea Cruise
I'm Watching Over You
Get Out Of Denver
Cupid Stupid
All That Counts Is Love
It's All About You
Don't Stop
The Winner
Rock n Roll n You
All Around My Hat (With Maddy Prior)
In The Army Now (2010 Radio Edit)
Pictures Of Matchstick Men (1999)
The Beginning Of The End
Two Way Traffic
Round And Round
Gotta Get Up And Go
Making Waves
Goodbye Baby
Movin' On
I Don't Wanna Hurt You Anymore
Frozen Hero
Twenty Wild Horses
Bad News
You Never Stop
Tilting At The Mill
Whatever You Want (Live 2010)
Caroline (Live)
Rocking All Over The World (Live)
About this release
Status Quo are one the biggest English rock bands of all time with 32 studio albums from 1968 to the present day they are truly legends of the genre. With over 60 chart hits in the UK including 22 Top 10 singles, their name is synonymous with rock music.
This 2CD collection contains 34 hits take from the classic albums; Don't Stop, Under The Influence, The Party Ain't Over Yet, In Search Of The Fourth Chord and Quid Pro Quo.
Contains alternate edits and live tracks taken from the Official Live Bootleg
Sleeve notes by Dave Ling, Classic Rock magazine.