Johnny Mathis – Gold
Johnny Mathis
Johnny Mathis – Gold
Johnny Mathis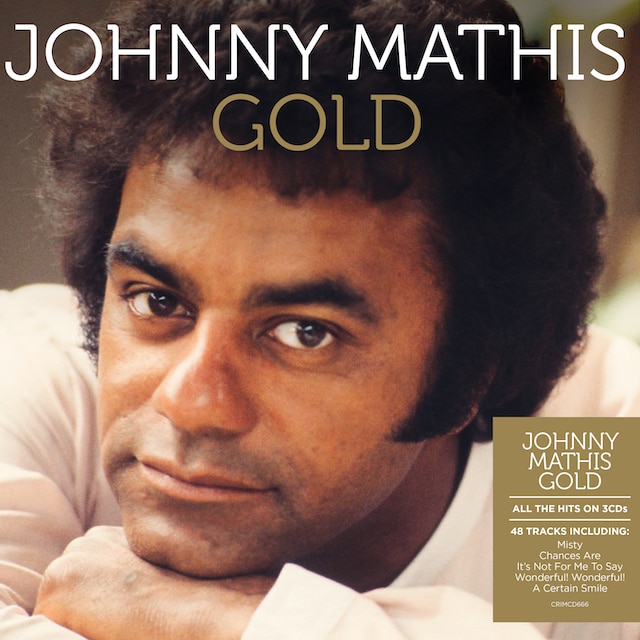 Release information
Release information
Label: Crimson Productions
• Format: CD
• Date: 13/03/2020
Cat#: CRIMCD666
• Barcode: Barcode
• Genre: Easy Listening
Track Listing
A Certain Smile
Wonderful! Wonderful! (Single Version) (Johnny Mathis with Ray Conniff & His Orchestra)
Teacher, Teacher (Single Version)
It's Not For Me To Say (From the MGM film "Lizzie")
Misty
Gina
99 Miles From L.A.
Chances Are
Bye Bye Barbara
Come To Me (From the Television Production "Come To Me")
No Love (But Your Love)
My Love For You
Let's Love
I'm Stone in Love with You
Listen Lonely Girl (Mono Version)
Every Step Of The Way
Run To Me
What Will My Mary Say (Album Version)
Too Much Too Little, Too Late (Johnny Mathis with Deniece Williams)
Love Never Felt So Good
Brazil (Aquarela do Brasil)
Begin the Beguine (Single Remix)
I'm Coming Home (Album Version)
You're All I Need To Get By (Johnny Mathis with Deniece Williams)
Gone, Gone, Gone
Because You Loved Me
Stairway To The Stars
A Time For Us
Heaven Must Have Made You Just For Me
Un-Break My Heart
What I Did For Love
When A Child Is Born (Soleado)
Wild Is The Wind (From The Paramount Film "Wild Is The Wind") (Johnny Mathis with Ray Ellis & His Orchestra)
The Twelfth Of Never (Single Version)
You Are Beautiful (From the Broadway Musical "Flower Drum Song")
How To Handle A Woman (From the Broadway Musical "Camelot")
All The Time (From the Broadway Musical "Oh, Captain!")
Maria
Small World (Single Version)
The Best Days Of My Life
My Funny Valentine
Starbright
Dancing On The Ceiling
When Sunny Gets Blue (Album Version)(Johnny Mathis with Ray Conniff & His Orchestra)
Call Me (Single Version)
Should I Wait (Or Should I Run To Her)
Someone
Love Me Tender
Once Before I Go
About this release
Crimson Gold presents Johnny Mathis 'Gold', the only Johnny Mathis compilation you'll ever need.
Johnny Mathis is the popular singer-songwriter who began his career with a string of hit singles before going on to achieve further success as an album artist, with dozens of his albums achieving gold or platinum status and an impressive 73 making the US Billboard charts. Decades after his initial success, Mathis remains a much admired figure and continues to be a popular concert attraction today.
This definitive 3CD set features 49 tracks from across Mathis's career including all of the hits and fan favourites.
CD 1 opens with Mathis's first UK hit 'A Certain Smile' which reached #4 in 1958. CD 1 is packed full of other early Johnny Mathis classics including 'My Love For You' (another UK top ten hit), 'Misty' and 'Wonderful! Wonderful!' recorded with Roy Conniff & His Orchestra.
CD 2 spotlights Johnny Mathis's career in the 70s with highlights including his duet with Deniece Williams 'Too Much, Too Little, Too Late' which was a global hit, peaking at number 3 in the UK charts in 1976. Other stand out singles from the period include 'Gone, Gone, Gone' which was yet another top twenty hit in the UK for Mathis. Also included is the UK #1 single 'When A Child is Born' which has gone on to become a festive classic.
CD 3 rounds off the set with more classic tracks including 'Wild Is The Wind' which would later be covered by David Bowie. Mathis's takes on songs from the stage are also featured here with tracks including 'Maria' and 'How To Handle A Woman'. The disc ends with a song from Mathis's most recent studio album ('Once Before I Go') which brings the set full circle.
Extra information about this release