Joe Brown – Gold
Joe Brown
Joe Brown – Gold
Joe Brown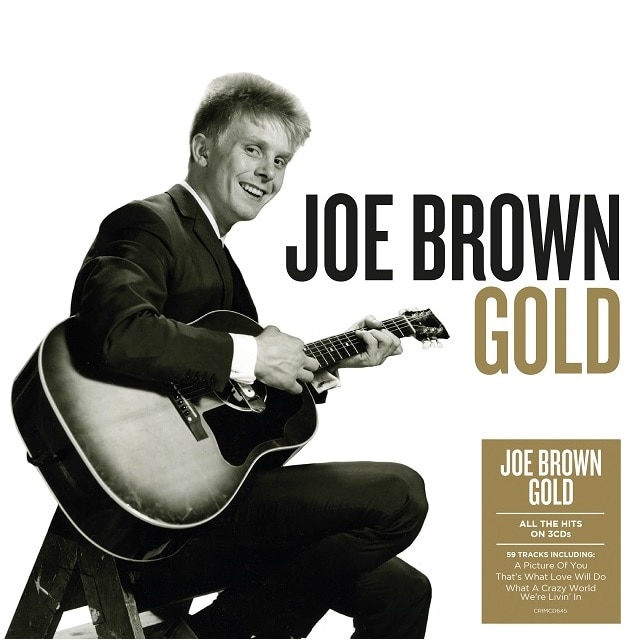 Release information
Release information
Label: Crimson Productions
• Format: CD
• Date: 12/02/2021
Cat#: CRIMCD645
• Barcode: 654378064524
• Genre: Rock
Sub Genre: Rock N' Roll
Track Listing
A Picture Of You*
It Only Took A Minute*
What A Crazy World We're Livin ' In*
Shine
The Switch
Stick Around
Crazy Mixed Up Kid
A Lay-About's Lament*
With A Little Ukelele In My Hand*I
Popcorn*
Please Don't Talk About Me When I'm Gone*
Whistle My Love*
The Spanish Bit*
The Other Side Of Town*
There's Only One Of You*
What's The Name Of Game
Moonglow
English Country Garden
Good Luck And Goodbye
Talking Guitar
1 I'm Henry The Eighth I Am
That's What Love Will Do*
Sally Ann*
Nature's Time For Love*
Your Tender Look*
Let Her Go
Everybody Calls Me Joe*
Just Like That*
Lonely Circus*
St Louis Blues*
Wasn't It A Handsome Punch-Up Up (Joe Brown & Marty Wilde)
Oh What A Family (Joe Brown & Marty Wilde)
Teardrops In The Rain*
Charlie Girl
Thinkin That I Love You*
You Do Things To Me*
Walkin ' Tall*
Independence (Joe Brown & The Bruvvers With Marty Wilde)With Marty Wilde)
Hercules Unchained*
Sea Of Heartbreak
A Satisfied Mind
Don't*
Little Ray Of Sunshine
Th' Wife*'
Sicilian Tarantella
All Things Bright & Beautiful*
Stay A Little While
Mrs O's Theme
My Favourite Occupation
Your Loving Touch
Just You Wait And See
Rich Man's Son and Poor Daughter
Show Me Around
Lonely Island Pearl
Put On A Happy Face
With A Little Help From My Friends
The Surrey With The Fringe On Top
Bruvvers (Joe Brown, Grazina & Michael Goodman)
Hava Naglia (The Hora)
About this release
Crimson Gold presents Joe Brown 'Gold', the only Joe Brown compilation you'll ever need.
Joe Brown is the English musician who has being working as a rock and roll singer and guitarist for more than six decades and continues to play over 100 shows every year. Often described as a 'musician's musician', Brown is admired by fellow artists and fans alike. In the early 1960s the hits began to roll in for Joe and his backing band the Bruvvers with tracks such as 'A Picture Of You', 'It Only Took A Minute' and 'That's What Love Will Do' – all of which are included on this new Gold collection. Brown's career continued to grow throughout the 60s and included headline British tours that featured the Beatles, Del Shannon and the Crystals.
This definitive 3CD set features 59 tracks including all of the hits and fan favourites.
CD 1 opens with Brown's number 2 UK hit single 'A Picture Of You' from June 1962. The track was originally the B-side to 'A Lay-About's Lament' (also featured here) but became a chart hit in it's own right and helped put Brown and the Bruvvers on the map. The disc is rounded off with more hits including 'It Only Took A Minute' and 'What A Crazy World We're Livin' In'.
CD 2 is packed with more classics including 'That's What Love Will Do' which was another UK top 5 hit for Joe Brown. Other highlights include three collaborations with the legendary Marty Wilde.
CD 3 rounds off the set with more fan favourites including a cover of the Beatles' 'With A Little Help From My Friends'. Tracks with an* indicate with The Bruvvers Highlights are also available on a 1LP version, pressed on 180g gold-coloured vinyl.
Extra information about this release