Jaki Graham: the Studio Albums 1985-1998
Jaki Graham
Jaki Graham: the Studio Albums 1985-1998
Jaki Graham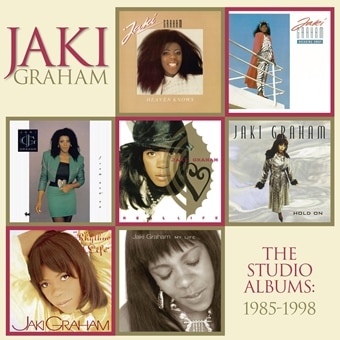 Release information
Release information
Label: Edsel
• Format: CD
• Date: 10/07/2015
Cat#: JAKIBOX01
• Barcode: 5014797893436
• Genre: Pop, R&B and Soul
Track Listing
Round And Around
Heaven Knows
Could It Be I'm Falling In Love (duet with David Grant)
I Fell For You
Hold On
The Facts Of Love
You're Mine
Loving You (duet with Derek Bramble)
What's The Name Of Your Game
Stay The Way You Are
Set Me Free
Breaking Away
Still In Love
Love Under Moonlight
Let's Get Blue (duet with Derek Bramble)
Stop The World
Luv 2 Much
The Love Of Your Life
The Closest One
Step Right Up
Mated (Duet with David Grant)
Love Me Tonight
From Now On
Provocative
The Better Part Of Me
Faking The Feeling
I Still Run To You (featuring Phillip Ingram)
(Baby) Don't You Want Me
I Want To Thank You (Heavenly Father)
First In Line
Every Little Bit Hurts
Nobody's Fool
You Can Count On Me For Love
Ain't Nobody
The Facts Of Love
Absolute E-Sensual
Depend On Me
Through Your Eyes
Breaking Away
Shivers
Rescue Me
Real Life
Come Into My Life
Do Me Baby
Set Me Free
Spend The Night
Hold On
Seek & You Will Find
Don't Keep Me Waiting
Heaven
Save The Best For Last
Saving It Up
Birthday
Lay With Me
Style
Breaking Away
Spend The Night
Shivers
Christmas Song
You're One Desire
Walking On Water
You And I
How Can I Be Sure
Show A Little Love
Rhythm Of Life
Rain Down On Me
How Long Must I Wait
All I Do
As We Lay
Wishing On Every Star
I'll Be Good To You
The Only Love
Style
Intro
Let Me Know
Never Stop
I Can Learn To Love You
Interlude
The Look Of Love
My Life
Lovin' Livin' Free!
Thinking About You
I Always
Flowers You Bring
Happy Ever After
Outro
About this release
In the 30th anniversary year since the release of Jaki Graham's debut album, 'Heaven Knows', Edsel is releasing a Special Edition box set containing the seven albums that were recorded for EMI Records and Japan's Avex Records.
From March 1985, Jaki Graham had six consecutive UK Top 20 hit singles (including three Top 10 hits) – 'Could It Be I'm Falling In Love', 'Round And Around', 'Mated', 'Set Me Free', 'Breaking Away' and 'Step Right Up', two of them being duets with fellow-British soul singer David Grant – leading her to become of the UK's best R&B/soul artists, whose singles gained her international recognition, including a US Billboard Dance Chart #1 in 1995, with a cover of Rufus & Chaka Khan's 'Ain't Nobody'.
This 7CD, 86-track anthology includes the albums 'Heaven Knows', 'Breaking Away', 'From Now On', 'Real Life', 'Hold On', 'Rhythm Of Life' and 'My Life', with the latter four Avex albums now receiving their first official UK release. The booklet includes a 9,000+ word liner note by internationally acclaimed music writer, Justin Kantor, constructed from new interviews undertaken with Jaki Graham and producers Derek Bramble, Errol Henry and Marlon McClain.
CD1: HEAVEN KNOWS (1985)
CD2: BREAKING AWAY (1986)
CD3: FROM NOW ON (1989)
CD4: REAL LIFE (1994)
CD5: HOLD ON (1995)
CD6: RHYTHM OF LIFE (1996)
CD7: MY LIFE (1998)