I Want Your Love (Exclusive Signed Edition)
Transvision Vamp
I Want Your Love (Exclusive Signed Edition)
Transvision Vamp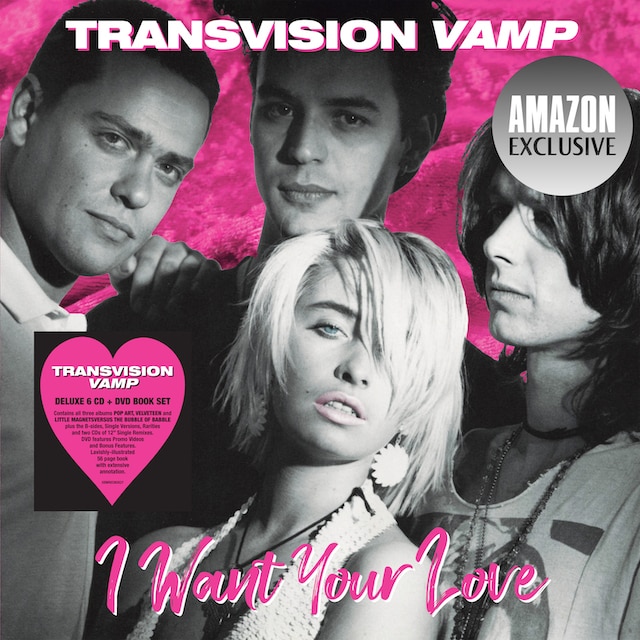 Release information
Release information
Label: Edsel
• Format: CD
• Date: 01/11/2019
Cat#: VAMPBOX01
• Barcode: 5014797897663
• Genre: Pop
Track Listing
Trash City
I Want Your Love
Sister Moon
Psychosonic Cindy
Revolution Baby
Tell That Girl To Shut Up
Wild Star
Hanging Out With Halo Jones
Andy Warhol's Dead
Sex Kick
Vid Kid Vamp
No It U Lover
God Save the Royalties
Sweet Thing [edit]
Evolution Evie [acoustic version]
Honey Honey
Long Lonely Weekend
Oh Yeah
Walk On By
Baby I Don't Care
The Only One
Landslide Of Love
Falling For A Goldmine
Down On You
Song To The Stars
Kiss Their Sons
Born To Be Sold
Pay The Ghosts
Bad Valentine
Time For Change
Strings Of My Heart
The Mystery Song
Love Me
Hardtime
He's The Only One For Me
W11 Blues
Kiss Me
(I Just Wanna) B With U
Ain't No Rules
If Looks Could Kill
Every Little Thing
Twangy Wigout
Don't Believe The Type
Pressure Times
Crawl Out Your Window
You Put A Spell On Me
Back On My Knees Again
Swamp Thang
Straight Thru Your Head
Punky Says
My Friend The Tom Cat
Puppy Dogs' Tails
Revolution Baby [7" version]
I Want Your Love [7" version]
Revolution Baby [Zeus B. Held Mix]
Sister Moon [7" single edit/version]
Baby I Don't Care [7" edit]
The Only One [7" edit]
(I Just Wanna) B with U [alternative single mix]
Twangy Wigout [7" mix]
Child Of The Age
Vid Kid Vamp [1988 remix]
Sex Kick [demo version]
Saturn 5 [demo version]
Revolution Baby [Electra-Glide mix]
Tell That Girl to Shut Up [extended mix]
I Want Your Love [I Don't Want Your Money mix]
Sweet Thing [full length]
Evolution Evie [electric version]
Sister Moon (Groove On)
Sex Kick (Ciao Portobello)
Baby I Don't Care [Abigail's Party mix]
The Only One [extended mix]
Landslide of Love [extended version]
Tell That Girl to Shut Up [Knuckle Duster mix]
(I Just Wanna) B with U [The Nightripper mix]
If Looks Could Kill [2 Go Mad In E.3 mix]
Twangy Wigout [12" mix]
(I Just Wanna) B with U [Sunsonic edit]
If Looks Could Kill [Voodoo Hipster mix]
Twangy Wigout [extended version]
(I Just Wanna) B with U [alternative 12" mix]
If Looks Could Kill [12" remix]
(I Just Wanna) B with U [Club mix]
If Looks Could Kill [12" remix instrumental]b mix]
(I Just Wanna) B with U [Dub mix]
Tell That Girl To Shut Up
I Want Your Love
Revolution Baby [7" remix]
Sister Moon
Baby I Don't Care
The Only One
Landslide Of Love
Born To Be Sold
(I Just Wanna) B With U
If Looks Could Kill
The Velveteen Singles: Behind The Scenes
If Looks Could Kill: Wendy James interview
About this release
Transvision Vamp were a genuine International Pop Supernova of the late eighties. Fronted by the irrepressible Wendy James – Pop's very own Halo Jones – whose bad-girl charms were impossible to ignore, and informed by the musical vision of Nick Christian Sayer, their sound and look was a kaleidoscopic whirl of chunky guitar riffs, incandescent pop thrills, razor sharp choral hooks, and vivid comic-book imagery. They crashed the charts like a rock and roll wrecking ball, bagging Gold and Platinum selling albums in a brief but spectacular reign.
This 6 CD + DVD book set includes the three albums – POP ART (1988), VELVETEEN (1989) and LITTLE MAGNETS VERSUS THE BUBBLE OF BABBLE (1991, on CD in the UK for the first time), plus 56 bonus tracks: single versions, the non-album B-sides and rarities, and two CDs of 12" single remixes. The DVD features ten promo videos, plus bonus features, all on DVD for the first time.
The lavishly illustrated 56 page book features extensive annotation by Alan Robinson, based on brand new interviews with both Wendy James and Nick Christian Sayer.