I Want Your Love (Coloured Vinyl)
Transvision Vamp
I Want Your Love (Coloured Vinyl)
Transvision Vamp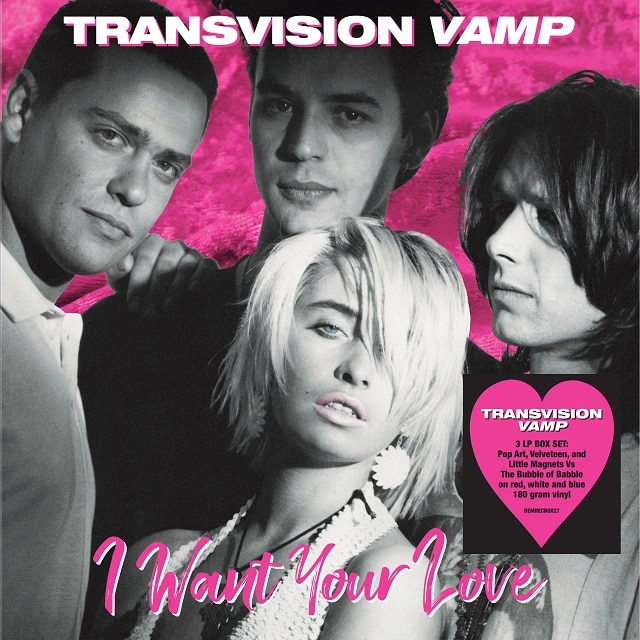 Release information
Release information
Label: Demon Records
• Format: Vinyl
• Date: 07/12/2018
Cat#: DEMRECBOX27
• Barcode: 5014797898141
• Genre: Pop, Rock
Track Listing
Trash City
I Want Your Love
Sister Moon
Psychosonic Cindy
Revolution Baby
Tell That Girl To Shut Up
Wild Star
Hanging Out With Halo Jones
Andy Warhol's Dead
Sex Kick
Baby I Don't Care
The Only One
Landslide Of Love
Falling For A Goldmine
Down On You
Song To The Stars
Kiss Their Sons
Born To Be Sold
Pay The Ghosts
Bad Valentine
Velveteen
(I Just Wanna) B With U
Ain't No Rules
If Looks Could Kill
Every Little Thing
Twangy Wigout
Don't Believe The Type
Pressure Times
Crawl Out Your Window
You Put A Spell On Me
Back On My Knees Again
About this release
Transvision Vamp were a genuine International Pop Supernova of the late eighties. Fronted by the irrepressible Wendy James – Pop's very own Halo Jones – whose bad-girl charms were impossible to ignore, and informed by the musical vision of Nick Christian Sayer, their sound and look was a kaleidoscopic whirl of chunky guitar riffs, incandescent pop thrills, razor sharp choral hooks, and vivid comic-book imagery. They crashed the charts like a rock and roll wrecking ball, bagging Gold and Platinum-selling albums in a brief but spectacular reign.
Charting in April 1988 with the punk-pop sound of their second single, a cover of Holly & The Italians' "Tell That Girl To Shut Up", the band followed this up with the Top 5 single "I Want Your Love" and # 4 debut album "Pop Art", certified Gold. In 1989, "Baby I Don't Care" hit # 3 in the singles chart, and the accompanying album "Velveteen" reached # 1, certified Platinum.
Both singles from third album "Little Magnets Vs The Bubble Of Babble" reached the Top 40 in 1991, but curiously the UK arm of MCA Records decided against releasing the album in the UK. It saw moderate success in Australia, New Zealand and Sweden, but this release is the first time it has been issued in the UK. The band broke up in 1992.
This 3 LP box set includes all three original albums that the band recorded for MCA, on 180 gram coloured vinyl, housed in a rigid slipcase.
Extra information about this release