Velveteen (Red Vinyl)
Transvision Vamp
Velveteen (Red Vinyl)
Transvision Vamp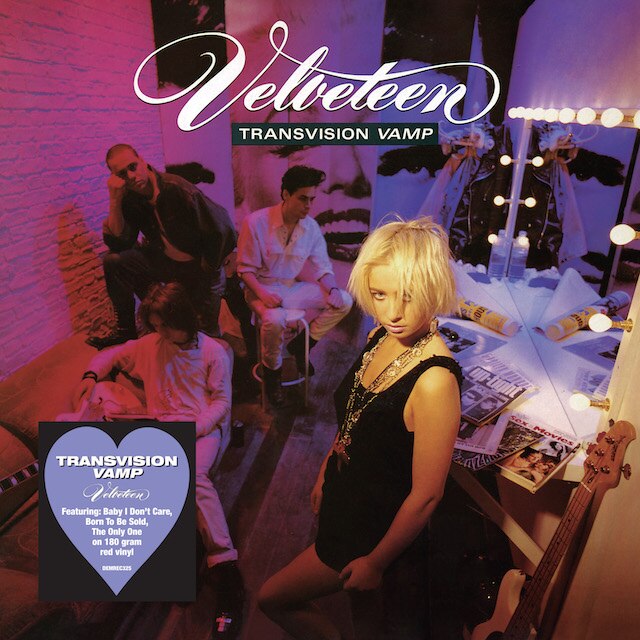 Release information
Release information
Label: Demon Records
• Format: Vinyl
• Date: 21/06/2019
Cat#: DEMREC325
• Barcode: 5014797898301
• Genre: Pop, Rock
Track Listing
Baby I Don't Care
The Only One
Landslide Of Love
Falling For A Goldmine
Down On You
Song To The Stars
Kiss Their Sons
Born To Be Sold
Pay The Ghosts
Bad Valentine
Velveteen
About this release
Transvision Vamp were a genuine International Pop Supernova of the late eighties. Fronted by the irrepressible Wendy James – Pop's very own Halo Jones – whose bad-girl charms were impossible to ignore, and informed by the musical vision of Nick Christian Sayer, their sound and look was a kaleidoscopic whirl of chunky guitar riffs, incandescent pop thrills, razor sharp choral hooks, and vivid comic-book imagery. They crashed the charts like a rock and roll wrecking ball, bagging Gold and Platinum-selling albums in a brief but spectacular reign.
Debut album "Pop Art" was certified Gold, and in 1989, "Baby I Don't Care" hit # 3 in the singles chart, and the accompanying album "Velveteen" reached # 1, certified Platinum. Follow-up chart singles "The Only One", "Landslide Of Love" and "Born To Be Sold" kept the album in the charts for six months.
The album is presented on 180 gram red vinyl.