I Have A Dream: Classic Songs of the Seventies
Daniel O'Donnell
I Have A Dream: Classic Songs of the Seventies
Daniel O'Donnell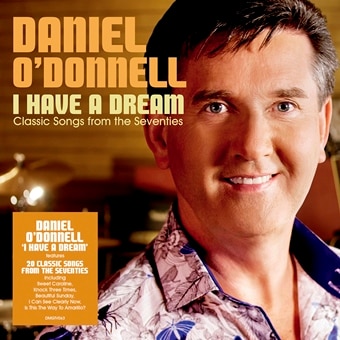 Release information
Release information
Label: DMG TV
• Format: CD, Digital
• Date: 28/10/2016
Cat#: DMGTV063
• Barcode: 5014797760639
• Genre: Easy Listening
Track Listing
Everything Is Beautiful
Never Ending Song Of Love
Beautiful Sunday
Sweet Caroline
I Can See Clearly Now
Help Me Make It Through The Night
For The Good Times
Lucille
Raindrops Keep Falling On My Head
Top Of The World (with Mary Duff)
Honey
The Most Beautiful Girl
Can't Help Falling In Love
Spanish Eyes
You Needed Me
I Have A Dream
You're My Best Friend (with Mary Duff)
Knock Three Times
Living Next Door To Alice (live)
Is This The Way To Amarillo
About this release
Daniel O'Donnell's career has now spanned more than 30 years but he continues to delight fans around the world by his prolific recording and touring activities.
Earlier in 2016, Daniel O'Donnell became the first recording artist to chart an album for 29 consecutive years but he returns to confirm his place as one of the chart's most prolific and successful recording Artists.
This autumn, Daniel also resumes his touring activities, having been away for a couple of years. His concerts always feature a jaunty and uptempo section, which is where the idea for his 700,000+ unit selling rock'n'roll trilogy and DVD started.
Daniel's fans have always appreciated and constantly request more recordings from the 1970s, so this year's album, which features 20 of the biggest songs from that decade, will also receive profile with a section devoted to the album in his nationwide autumn concerts.
Featuring a variety of ballads, country and pop hits of the time, 'I Have A Dream' is set to continue Daniel's surge into the high end of the Albums Chart in 2016.
Daniel O'Donnell has now amassed twenty-one Top 30 albums since January 2000.
A feat has been achieved by any other recording Artist in the UK Album Chart.
Daniel O'Donnell has had fourteen Top 10 albums since January 2000.
Daniel O'Donnell set a record-breaking chart feat in 2016.
Daniel O'Donnell is the only Artist to have charted at least one new album every year for 29 consecutive years.
Daniel O'Donnell has reached the UK Albums chart with almost 40 albums.
Daniel O'Donnell has spent more than 300 weeks in the UK Albums chart.
Daniel O'Donnell has sold more than 4 MILLION units in the UK this millennium.
Extra information about this release