Holland Dozier Holland – Rare 45s Vinyl Box
Various Artists
Holland Dozier Holland – Rare 45s Vinyl Box
Various Artists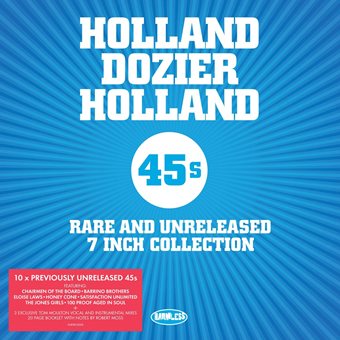 Release information
Release information
Label: Demon Records
• Format: Vinyl
• Date: 08/12/2014
Cat#: HURTBOX008
• Barcode: 5014797891265
• Genre: Funk, R&B and Soul
Track Listing
What's The Use - Chairmen Of The Board
Where There Is Faith, There Is Hope - Chairmen Of The Board
Trapped In A Love - Barrino Brothers
Something About You - Barrino Brothers
(You're Mine) Baby Doll - Eloise Laws
Don't Burn The Bridge - Eloise Laws
If I Can't Fly – (Unreleased Version) - Honey Cone
Come Back - Honey Cone
The Easiest Way To Fall - Eloise Laws
I Think You Need Love - Eloise Laws
Why – (Unreleased Single Version) - Satisfaction Unlimited
Don't Be Sorry Be Careful - The Jones Girls
Since You've Been Gone (Unreleased Long Version) - 100 Proof Aged In Soul
I Want To Give You All The Love You've Been Giving Me - Barrino Brothers
Give Me Just A Little More Time – Tom Moulton Remix - Chairmen Of The Board
Give Me Just A Little More Time Instrumental – Tom Moulton Remix - Chairmen Of The Board
You've Got Me Dangling On A String – Tom Moulton Remix - Chairmen Of The Board
You've Got Me Dangling On A String Instrumental – Tom Moulton Remix - Chairmen Of The Board
Unhooked Generation – Tom Moulton Remix - Freda Payne
Unhooked Generation Instrumental – Tom Moulton Remix - Freda Payne
About this release
Following the success of the recent Harmless release, 'Holland -Dozier-Holland: The Complete 45s Collection', we've been inundated with requests to make some of the previously unreleased acetates, test-pressings and remixes available on a 7″ vinyl format. So here it is! Welcome to the 'Holland-Dozier-Holland: Rare 45s Box Set' due to popular demand!
This will be 10 x 7″ vinyl records all in bespoke Invictus, Hot Wax and Music Merchant Sleeves together with a 20 7″ x 7″ page booklet courtesy of Robert Moss which contains recent interviews with Eddie Holland, Ralph Terrana, Frank Bryant of the Just Brothers, Dennis Coffey, Angelo Bond, Ed Wolfrum and Ron Dunbar plus many additional photographs and scans, all housed in a heavyweight secure box.
This is the first time-ever that any of these records, versions or remixes have been released on vinyl and all have been signed off by Holland-Dozier-Holland. For collectors of Detroit and Motown rarities this will be a 'must-purchase' item and will sit beautifully alongside the recent Motown Rare 7″ Box Sets.
Also, please note that the 3 x Tom Moulton remixes of the Vocal and Instrumental remixes of the Chairmen Of The Board's "Give Me Just A Little More Time"/"You've Got Me Dangling On A String" and Freda Payne's "Unhooked Generation" will only be available on vinyl via this package.