Hey Jude + Right On
Wilson Pickett
Hey Jude + Right On
Wilson Pickett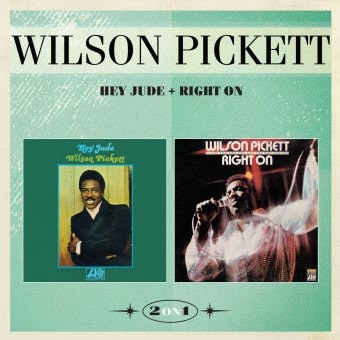 Release information
Release information
Label: Edsel
• Format: CD
• Date: 25/11/2016
Cat#: EDSA5062
• Barcode: 740155506230
• Genre: R&B and Soul, Rock
Sub Genre: Rock N' Roll
Track Listing
Save Me
Hey Jude
Back In Your Arms
Toe Hold
Night Owl
My Own Style Of Loving
A Man And A Half
Sit Down And Talk This Over
Search Your Heart
Born To Be Wild
People Make The World (What It Is)
Groovy Little Woman
Funky Way
Sugar Sugar
Sweet Inspiration
This Old Town
You Keep Me Hangin' On
Lord Pity Us All
It's Still Good
A Woman Likes To Hear That
She Said Yes
Hey Joe
Steal Away
Mini Skirt Minnie
Now You See Me, Now You Don't
Cole, Cooke And Redding
About this release
The "Hey Jude" album (1969) was recorded at Fame Studios and features Duane Allman on stunning lead guitar throughout. The album introduced both the singer and the guitarist to new audiences, particularly when the title track was featured on Allman's posthumous "Anthology" double album. Also included is Pickett's cover of Steppenwolf's "Born To Be Wild".
"Right On" (1970) was recorded at Criteria Studios in Miami and features Pickett's hit covers of The Supremes' "You Keep Me Hangin' On" and The Archies' "Sugar Sugar", an R&B # 4 hit.
The eight bonus tracks are non-album singles sides. The booklet includes lengthy annotation by acknowledged expert Tony Rounce.