Hey Duggee & The Greatest Hits Badge Volume Woof (Digital)
Duggee & the Squirrels
Hey Duggee & The Greatest Hits Badge Volume Woof (Digital)
Duggee & the Squirrels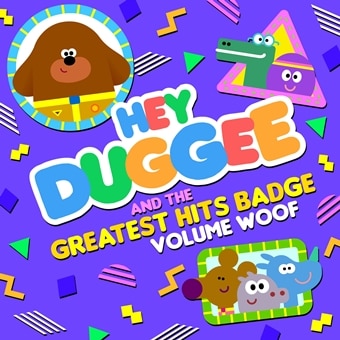 Release information
Release information
Label: Little Demon
• Format: Digital
• Date: 25/11/2016
Cat#: 5032698631797
• Barcode: 5032698631797
• Genre: Children's
Track Listing
Hey Duggee
Sandcastle
Sheep
Snowman
Funny Face March
Paddling Pool
What a Lovely day
Surprise
Trojan Cheese
Tippy Toes
Raindance
Disco Duck
Eggs
Making Music
Hair
Chew Chew Tune
Creaky Castle
Detective
That Was Fun Wasn't It Duggee?
About this release
Dance-along with Duggee and the Squirrels with the new Hey Duggee & the Greatest Hits Badge album.
Featuring 19 woof-tastic songs including 'Snowman', 'Raindance' and 'Making Music'.