Heatwave – Gold
Heatwave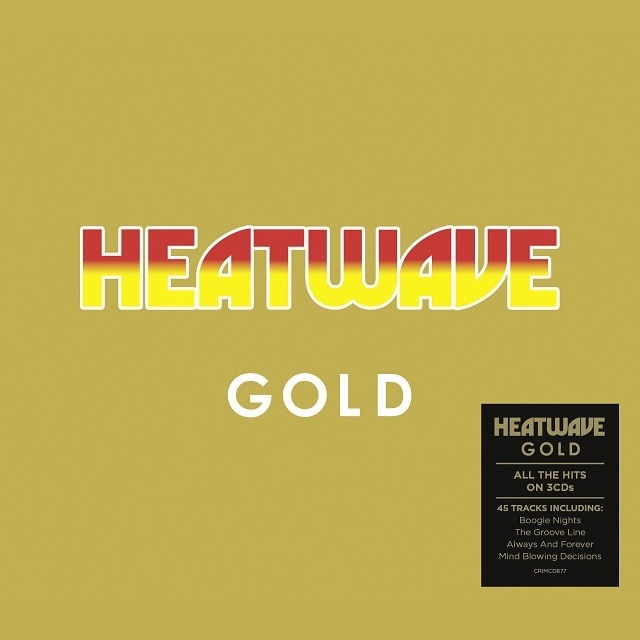 Release information
Release information
Label: Crimson Productions
• Format: CD
• Date: 18/09/2020
Cat#: CRIMCD677
• Barcode: 0654378067723
• Genre: Disco, Funk, R&B and Soul
Track Listing
Boogie Nights
Ain't No Half Steppin'
Too Hot To Handle
Always And Forever
The Groove Line
Eyeballin'
Super Soul Sister
Mind Blowing Decisions
Razzle Dazzle
Central Heating
Party Poops
Slip Your Disc To This
One Night Tan
Turn Out The Lamplight
Happiness Togetherness
All You Do Is Dial
Raise A Blaze
Put The Word Out
Gangsters Of The Groove
Lettin' It Loose
Jitterbuggin'
The Big Guns
Therm Warfare
The Star Of A Story
Turn Around
Goin' Crazy
All Talked Out
Dreamin' You
Birthday
Look After Love
Where Did I Go Wrong
Find It In Your Heart
Posin' 'Til Closin'
Disco
The Groove Line (The Mike Maurro Remix)
Boogie Nights (The Mike Maurro Remix)
Too Hot To Handle (The Mike Maurro Remix)
Always And Forever (The Mike Maurro Remix)
Mind Blowing Decisions (12" Disco Version)
Ain't No Half Steppin' (Album Version)
Eyeballin' (12" Version)
Gangsters Of The Groove (12" Version)
Turn Around (Single Version)
Lettin' It Loose (12" Version)
The Groove Line (12" Disco Version)
About this release
Crimson presents Heatwave 'Gold', the only Heatwave compilation you'll ever need.
Heatwave are a British funk and disco band formed in 1975. The group arrived on the scene with their debut album 'TOO HOT TOO HANDLE' in 1976. The album featured Heatwave's first hit single 'Boogie Nights' which charted at #2 in both the US and UK and was the first in a string of hit records for the group. Heatwave's influential funk-disco sound led to member Rod Temperton working on tracks for Michael Jackson's 'Off The Wall' album and later writing the iconic 'Thriller'.
This new compilation features tracks from across Heatwave's career including all of the hit singles and a third CD of disco mixes.
CD 1 kicks things off with the band's mid-'70s classics including the smash hit 'Boogie Nights', 'Ain't No Half Steppin'', and 'Always And Forever' which went on to be covered by numerous artists including Luther Vandross, Whistle, and Johnny Mathis.
CD 2 covers the group's later hits including UK top twenty single 'Gangsters Of The Groove' and 'Jitterbuggin''.
CD 3 rounds off this new compilation with a collection of some of Heatwave's finest disco mixes. Highlights include a selection of Mike Maurro remixes plus a variety of 12" mixes.
Extra information about this release