Happy Together
The Turtles
Happy Together
The Turtles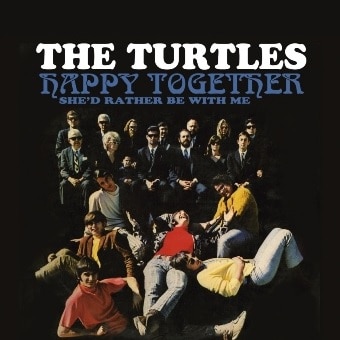 Release information
Release information
Label: Edsel
• Format: CD
• Date: 05/05/2017
Cat#: EDSK7119
• Barcode: 740155711931
• Genre: Pop, Rock
Track Listing
Makin' My Mind Up
Guide For The Married Man
Think I'll Run Away
The Walking Song
Me About You
Happy Together
She'd Rather Be With Me
Too Young To Be One
Person Without A Care
Like The Seasons
Rugs Of Woods And Flowers
Makin' My Mind Up
Guide For The Married Man
Think I'll Run Away
The Walking Song
Me About You
Happy Together
She'd Rather Be With Me
Too Young To Be One
Person Without A Care
Like The Seasons
Rugs Of Woods And Flowers
About this release
The Turtles enjoyed eighteen US hit singles between 1965 and 1970, three of which ("Happy Together", "She'd Rather Be With Me" and "Elenore") were also huge hits in the UK. From their original incarnation as surf band The Crossfires, all the way to their final single, the Turtles traversed several different musical paths during their career. Edsel Records is proud to present the band's six albums, each as a 2 CD digipak set.
The back end of 1966 had been a period of change for the original Turtles but the reborn group, now including ex-Leaves bassist Jim Pons and drummer Johnny Barbata, opened 1967 with their # 1 single, "Happy Together", and this album of the same name followed in April. Top 3 hit "She'd Rather Be With Me" came next, followed by "Guide For the Married Man" (from the film of the same name).
With a booklet note by Andrew Sandoval, this 2 CD digipak edition (exclusive to the UK) has been newly re-mastered in both mono and stereo by Bill Inglot.
CD1 – Mono Version
CD2 – Stereo Version