Hank Marvin: The Collection
Hank Marvin
Hank Marvin: The Collection
Hank Marvin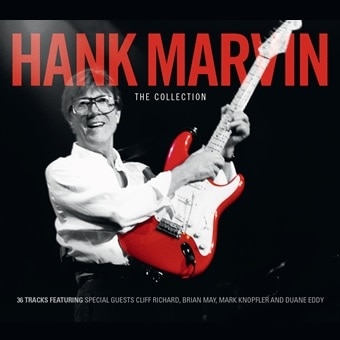 Release information
Release information
Label: Music Club Deluxe
• Format: CD
• Date: 04/09/2015
Cat#: MCDLX209
• Barcode: 5014797672093
• Genre: Pop
Track Listing
Pipeline (featuring Duane Eddy)
Oxygene (Part IV)
Wonderful Land (featuring Mark Knopfler)
We Are The Champions (featuring Brian May)
Jessica
Steel Wheel
All Alone With Friends
Rikki Don't Lose That Number
Into The Light
Wichita Lineman
Live And Let Die
Living Doll
Wired For Sound
The Young Ones
The Day I Met Marie
Devil Woman
We Don't Talk Anymore
Summer Holiday
Don't Talk
The Trouble With Me Is You
The Hawk And The Dove
Bad Cop
Night Nurse
Then I Found Love
Life Line
Just Another Heartbreak
Tahlia Take Your Time
Invisible Man
Don't Answer
Stardom
99 Days
Heartbeat (vocals Cliff Richard)
Mrs Robinson (vocals Cliff Richard)
I Will Always Love You (vocals Cliff Richard)
Carrie (vocals Cliff Richard)
Move It (vocals Cliff Richard)
About this release
As lead guitarist with The Shadows and with Cliff Richard, Hank Marvin inspired generations of six stringers worldwide. Hank Marvin still remains popular and relevant today, by reaching the Top 10 with his latest album 'Hank', in 2014.
This 36-track/2CD compilation focuses on the five solo albums he released during the period 1982- 95: 'Words And Music', 'All Alone With Friends', Into The Light', 'Heartbeat', 'Hank Plays Cliff'. The collection is evenly themed as instrumental and vocal discs, the latter showcasing his rarely heard but impressive talent as a singer. With a version of The Shadows classic 'Wonderful Land' produced by ELO's Jeff Lynne.
Queen's Brian May, Duane Eddy, The Shadows' Brian Bennett, Mark Knopfler and Cliff Richard also appear on this unique collection from Britain's foremost guitar legend.
CD1 – Instrumental Disc
CD2 – Vocal Disc
Recommended titles