Hank Marvin – Gold
Hank Marvin
Hank Marvin – Gold
Hank Marvin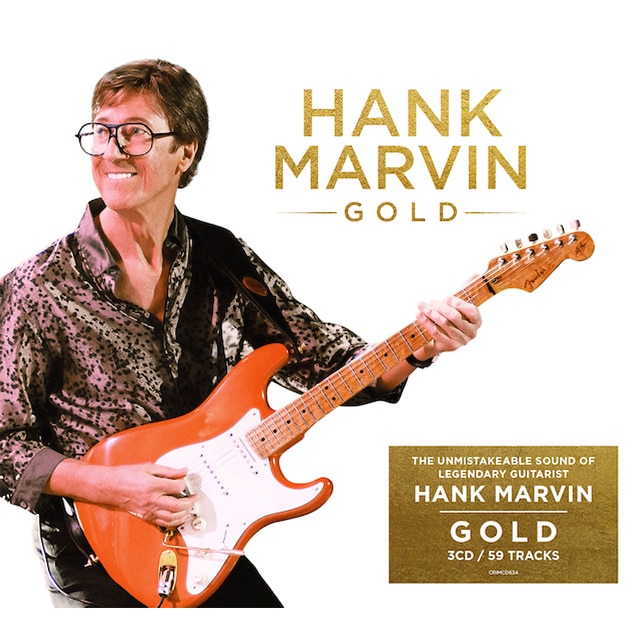 Release information
Release information
Label: Crimson Productions
• Format: CD, Digital
• Date: 28/06/2019
Cat#: CRIMCD634
• Barcode: 654378063428
• Genre: Rock
Sub Genre: Rock N' Roll
Track Listing
The Good, The Bad And The Ugly
Sealed With A Kiss
Peggy Sue
Ebb Tide
Love Is All Around
Guitar Man
Sacha
True Love Ways
Captain Zlogg
Life Line
Moon River
Ticket To Ride
The Hawk And The Dove
Invisible Man
Jessica
This Guy's In Love With You
While My Guitar Gently Weeps
Go Jimmy
Fields Of Gold
Summertime
Move It (feat. Cliff Richard)
Wonderful Land (feat. Mark Knopfler)
Slow Down
(Everything I Do) I Do It For You
Flamingo
Don't Answer
We Are The Champions (feat. Brian May)
Midnight At The Oasis
Peter Gunn/ Baby Elephant Walk
Live And Let Die
Rainy Day Goodbye
California Girls
Devil Woman
Leila (Danny's Got A Song For You)
Bird Of Beauty
Summer Holiday
Light My Fire
I Only Have Eyes For You
James Bond Medley
Pipeline (feat. Duane Eddy)
Wired For Sound
Don't Talk
Killing Me Softly
Syndicated
Hotel California
Into The Light
Nivram (feat. Mark Knopfler)
All Alone With Friends
La Bamba
Theme From 'Poirot'
When The Girl In Your Arms Is the Girl in Your Heart
Windmills Of Your Mind
Heartbeat (vocals Cliff Richard)
Raining In My Heart
Rave On
Oxygene (Part IV)
Doctor Who Theme
The Fool On The Hill
Waterloo Sunset
About this release
Recognised by fans and fellow recording artists, as one of the World's most influential and best ever guitarists.
This tribute is frequently confirmed when Hank regularly features high on the polls that determine the greatest guitarists of all time.
Initially known as the lead guitarist of The Shadows, the band that evolved to become the UK's biggest ever selling instrumental group, Hank Marvin defined the sound of a generation.
Hank was the very first guitarist in the UK to own an iconic Fender Stratocaster – when Cliff Richard imported the guitar from the US exclusively for Hank to play.
As a solo Artist, Hank Marvin has released 16 albums, with Top 20 albums spanning almost 50 years; 1969-2017 (to date), in a long and successful career lasting more than 60 years.
Hank Marvin, as a solo Artist, as well as part of The Shadows, with and without Cliff Richard, has spent approximately 900 weeks on the UK Albums Chart.
This 'Gold' 3CD collection, covers Hank's entire solo career, from his debut album 'Hank Marvin' in 1969, right through the 1980s and 1990s, up until his most recent Top 10 album in 2017, 'Without A Word'.
'Gold' includes guest appearances/performances from Cliff Richard, Brian May, Duane Eddy and Mark Knopfler.