Halfway To Paradise (Vinyl)
Various Artists
Halfway To Paradise (Vinyl)
Various Artists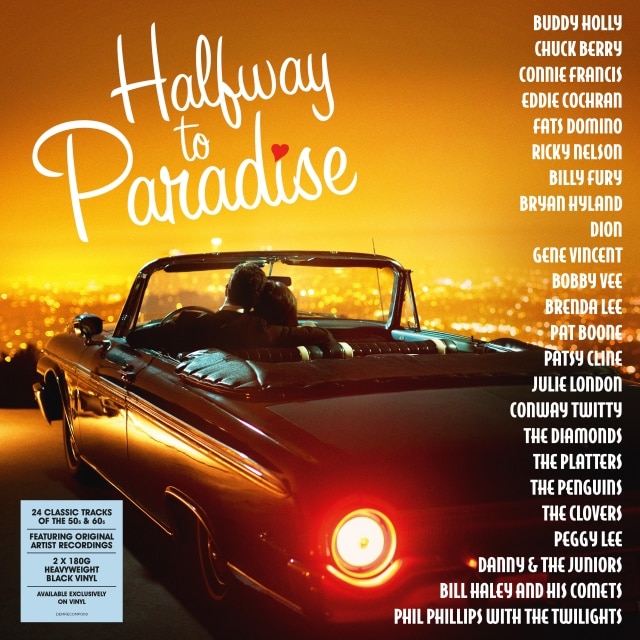 Release information
Release information
Label: Demon Records
• Format: Vinyl
• Date: 26/01/2018
Cat#: DEMRECOMP009
• Barcode: 5014797896413
• Genre: Pop, Rock
Track Listing
The Crickets featuring Buddy Holly - That'll Be The Day
Bill Haley and His Comets - Rock Around The Clock
Gene Vincent and His Blue Caps - Be-Bop-A-Lula
Ricky Nelson - Hello Mary Lou (Goodbye Heart)
Billy Fury - Halfway To Paradise
Bryan Hyland - Sealed With A Kiss
Dion - Runaround Sue
Danny & The Juniors - At The Hop
Bobby Vee - The Night Has A Thousand Eyes
Connie Francis - Lipstick On Your Collar
Brenda Lee - Sweet Nothin's
Pat Boone - Long Tall Sally
Chuck Berry - Johnny B. Goode
Eddie Cochran - C'Mon Everybody
Conway Twitty - It's Only Make Believe
Patsy Cline - Crazy
Peggy Lee - Fever
Julie London - Cry Me A River
Fats Domino - Blueberry Hill
The Diamonds - Why Do Fools Fall In Love
The Platters - The Great Pretender
The Penguins - Earth Angel
The Clovers - Love Potion No. 9
Phil Phillips With The Twilights - Sea Of Love
About this release
Halfway to Paradise is the latest 'exclusive to vinyl' release in the Demon Records range.
Containing 24 Classic Songs of the Fifties & Sixties Performed by some of the greatest artists of the era all housed in a gatefold sleeve with original artwork and pressed on 2x 180g heavyweight black vinyl.
Timeless tracks from artists including 'The Crickets featuring Buddy Holly', 'Bill Haley and His Comets', 'Chuck Berry', 'Eddie Cochran', 'Dion', 'Fats Domino' and many more.
Extra information about this release