Green Onions + Soul Dressing
Booker T. & The MGs
Green Onions + Soul Dressing
Booker T. & The MGs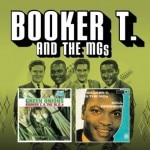 Release information
Release information
Label: Edsel
• Format: CD
• Date: 02/03/2015
Cat#: EDSA5037
• Barcode: 740155503734
• Genre: Blues, R&B and Soul
Track Listing
Green Onions
Rinky Dink
I Got A Woman
Mo' Onions
Twist And Shout
Behave Yourself
Stranger On the Shore
Lonely Avenue
The One Who Really Loves You
You Can't Sit Down
A Woman, A Lover, A Friend
Comin' Home Baby
Soul Dressing
Tic-Tac-Toe
Big Train (My Babe)
Jelly Bread
Aw' Mercy
Outrage
Night Owl Walk
Chinese Checkers
Home Grown
Mercy, Mercy
Plum-Nellie
Can't Be Still
MG Party
Terrible Thing
About this release
In the 50s, "The Memphis Sound" was the phrase coined to describe the music of Elvis Presley, Carl Perkins, Johnny Cash, Jerry Lee Lewis and dozens of other young hopefuls that flocked to former radio engineer Sam C. Phillips' Sun studio on Union Avenue. But as far as the 60s go, 'The Memphis Sound' was owned pretty much by Stax Records, and the great music that poured out of the company's studio on McLemore Avenue. The blaring horns and tight rhythms that were a feature of almost every Stax record virtually defined southern soul from 1962 to 1967.
And on almost every one of those records, the musical accompaniment was provided by Booker T and the MGs. Between 1962 and 1968 Booker T and the MGs released six albums that – along with a selection of non-album singles – form the core of Edsel's three volume collection of their complete surviving recordings from that period.
This first volume brings together the group's first two albums, "Green Onions" and "Soul Dressing" from 1962 and 1965 respectively, with two non-album tracks. The booklet is extensively annotated by Tony Rounce.