Good Omens – (Coloured Vinyl)
Various Artists
Good Omens – (Coloured Vinyl)
Various Artists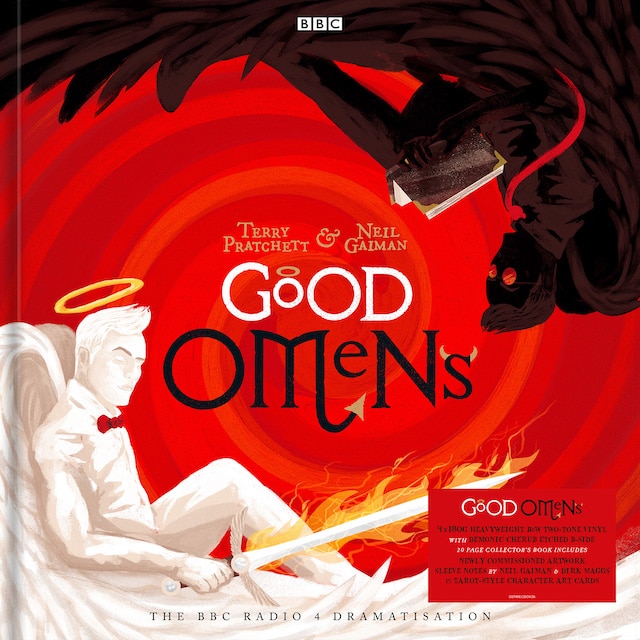 Release information
Release information
Label: Demon Records
• Format: Vinyl
• Date: 02/08/2019
Cat#: DEMRECBOX36
• Barcode: 5014797899858
• Genre: Soundtrack
Track Listing
About this release
"He is Nigh."
"He is? Already? How??"
When Aziraphale (Angel and part-time rare book dealer) and Crowley (an Angel who didn't so much Fall as Saunter Vaguely Downwards) learn that the Antichrist has been born on present day Earth, they agree to work together to prevent the End of Days. Eleven years later, all bets are off when innocent Adam Young discovers he has the power to bring about Armageddon. As the stage is set for a showdown between the forces of Good and Evil, the prophecies of Agnes Nutter, Witch may yet come true…
For the first time ever on vinyl, Good Omens is adapted and co-directed for BBC Radio 4 by the award-winning Dirk Maggs (The Hitchhiker's Guide to the Galaxy; Neverwhere; Stardust; Anansi Boys; The X-Files; Alien; Batman; Superman). It is based on the novel by Neil Gaiman and Terry Pratchett, now the basis for a major Amazon Prime TV series premiering in Summer 2019.
Starring Mark Heap as Aziraphale and Peter Serafinowicz as Crowley, with Josie Lawrence as Agnes Nutter, Colin Morgan as Newton Pulsifier and Charlotte Richie as Anathema Device, the cast also includes Phil Davis, Harry Lloyd, Paterson Joseph, Rachael Stirling, Jim Norton, Nicholas Briggs, Neil Maskell, Steve Toussaint, Simon Jones, Julia Deakin, Mitch Benn, Louise Brealey, Mark Benton and many more including cameo appearances by Neil Gaiman and Terry Pratchett.
The unique four 180g heavyweight heaven and hell split black and white vinyl — includes a laser-etched Side B — are presented in illustrated wallets inside a rigid, bound 16 page book, with exclusive sleeve notes written by Neil Gaiman and Dirk Maggs.
Extra information about this release