Gladys Knight And The Pips – Gold
Gladys Knight
Gladys Knight And The Pips – Gold
Gladys Knight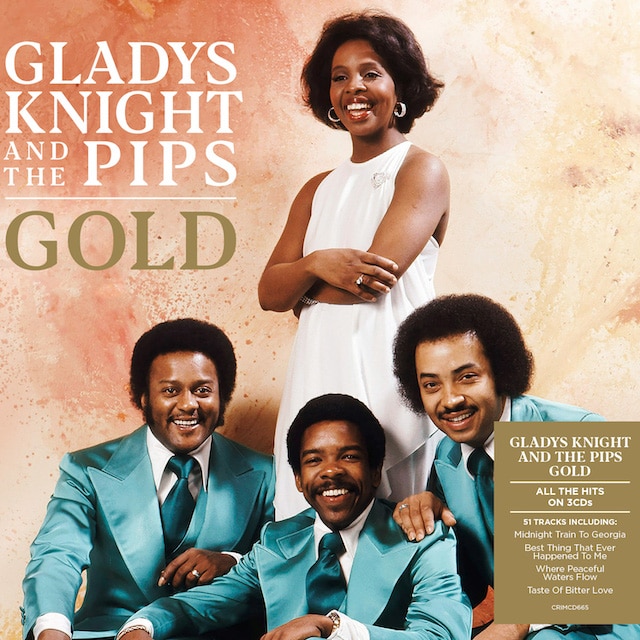 Release information
Release information
Label: Crimson Productions
• Format: CD
• Date: 28/02/2020
Cat#: CRIMCD665
• Barcode: 654378066528
• Genre: Pop, R&B and Soul
Track Listing
Where Peaceful Waters Flow
Midnight Train To Georgia
I've Got To Use My Imagination
You're The Best Thing That Ever Happened To Me
On And On
The Makings Of You (From the Original Motion Picture Soundtrack)
Mr. Welfare Man
I Feel A Song (In My Heart)
Love Finds Its Own Way
The Way We Were/Try To Remember (Single Version)
Seconds
The Going Ups and the Going Downs
Money
Part Time Love
Georgia On My Mind
You And Me Against The World
Feel Like Makin' Love
Alone Again (From , "The 2nd Anniversary Recordings Sessions")
Make Yours A Happy Home (Alternate US Single Mix)
So Sad The Song
Nobody But You
Baby Don't Change Your Mind
Home Is Where the Heart Is
I Love To Feel That Feeling
Love Is Always On Your Mind (12" Version)
Little Bit of Love
Sorry Doesn't Always Make It Right
The One And Only
Come Back And Finish What You Started
It's A Better Than Good Time*
All The Time
It's Up To You (Do What You Do) (7" Version)
I'm Still Caught Up With You (7" Version)
I'm Coming Home Again
If You Ever Need Somebody*
Landlord
Taste Of Bitter Love
Bourgie', Bourgie'
Still Such A Thing
Forever Yesterday (For The Children)
I Will Survive
I Will Fight
Baby Baby Don't Waste My Time
A Friend Of Mine
Save The Overtime (For Me) (12" Mix)
When You're Far Away (12" Version)
You're Number One (In My Book)
Hero (Wind Beneath My Wings)
Ain't No Greater Love
My Time (Body Slam Mix)
Till I See You Again
About this release
Crimson Gold presents Gladys Knight And The Pips 'Gold', the only Gladys Knight And The Pips compilation you'll ever need.
Gladys Knight And The Pips are the legendary soul family from Atlanta, Georgia that performed and recorded together for three decades. Together they created some of the best loved R&B and soul music of the 20th Century and won multiple Grammy Awards as well being inducted into the Rock and Roll Hall of Fame. This definitive 3CD set features 51 tracks from 1973 right up to 1989.
CD 1 includes the iconic single 'Midnight Train To Georgia' which was a Grammy-winning international hit for the group and went on to become Knight's signature song. This disc is packed full of more hits including 'Where Peaceful Waters Flow', 'You're The Best Thing That Ever Happened To Me' and 'I've Got To Use My Imagination'.
CD 2 covers more of the group's classic recordings from the '70s including the top 20 hits 'So Sad The Song' and 'Come Back And Finish What You Started'.
CD 3 completes the set and covers the period of 1980 – 1989. More alternate mixes are included here such as the 'Body Slam Mix' of 'My Time' along with the soul classics 'Hero (Wind Beneath My Wings)', 'Taste Of Bitter Love' and 'Bourgie', Bourgie'.
Highlights are also available on a 1LP version, pressed on 180g gold-coloured vinyl.
All tracks performed by Gladys Knight And The Pips except * performed by Gladys Knight
Extra information about this release