Givin' It That – The Albums Collection
Chas & Dave
Givin' It That – The Albums Collection
Chas & Dave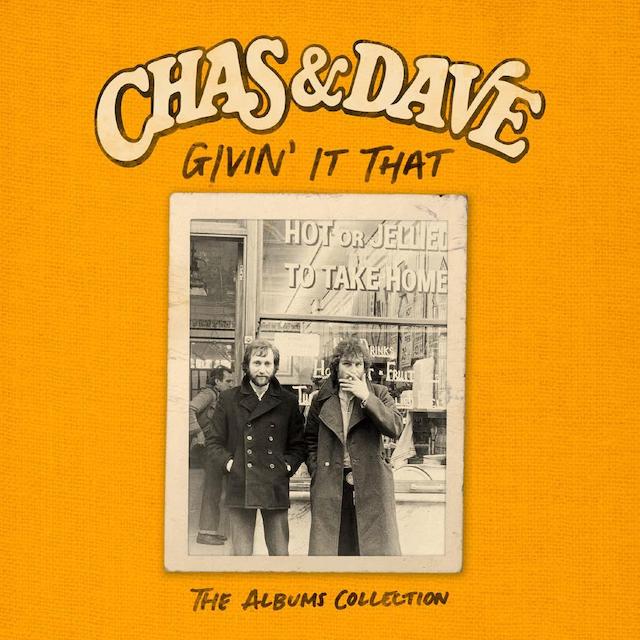 Release information
Release information
Label: Edsel
• Format: CD
• Date: 08/11/2019
Cat#: EDSL0044
• Barcode: 0740155724436
• Genre: Rock
Track Listing
Ponders End Allotments Club
Better Get Your Shoes On
Dry Party
Ballad Of The Rich
Deceived
One Fing 'n' Anuvver
It's So Very Hard
Woortcha!
I Am A Rocker
Old Time Song
Old Dog And Me
That's What It's All About
Big Fat Rat
Strummin'
Love & Days Gone By
Punchy & The Willer Warbler
Massage Parlour
Billy Tyler
Edmonton Green
I'm In Trouble
Sling Your Hook
Gertcha
Rabbit
The Banging In Your Head
Got My Beer In The Sideboard Here
What A Miserable Saturday Night
Pay Up And Look Big
Lunatic Asylum
Who D'Ya Think You're Talking To?
I Am A Rocker
Scruffy Old *!*?*
Send Me Some Lovin' [bonus track]
Breathless [bonus track]
Sunshine Of Your Smile [bonus track]
I Get The Blues When It Rains [bonus track]
Poor Old Mr Woogie
Bored Stiff
Don't Anyone Speak English?
Turn That Noise Down!
Beer Belly
Behave Yourself
Ain't No Pleasing You
I Miss Ya Girl
Lonnie D.
Wallop!
Rabbit
That Old Piano
That's What I Like
London Girls
Give It Some Stick, Mick
No-Body
Flying [instrumental]
Margate
Mustn't Grumble
Word From Anne
Stop Dreaming
Give It Gavotte
Wish I Could Write A Love Song
There In Your Eyes
They Kept On Rocking
Did I Feel A Fool
Snake Eyes Bert
Where Am I Gonna Find Ya?
I Wonder In Whose Arms ...
Jumpin' The Lights
I'm Going Back
Harry Was A Champion
One O' Them Days
Brother-In-Law
England
Punchinello
Sunday
Darlin' I Don't Care
Diddle-Umma Day
Flying
Exhibition Rag
I Can Get Along Without You
That Telephone Thing
Back In The Soul Days
Miss You All The Time
Railroad Bill
I Can't Give You Anything But Love
When Two Worlds Collide
Lonnie D. [acoustic version]
Glory Of Love
Right String Baby
Pretty Baby
Look At Me
Rocking Gloworm
Better Get Your Shoes On [acoustic version]
San Francisco Bay Blues
Ain't No Pleasing You [acoustic version]
Midnight Special
All By Myself
A Little Bit Of Me
Come On Charlie
When You Wore A Tulip
Wonder Where He Is Now
Nagasaki
Dry Bones
Nothing You Can Do
Modern Robin Hood
Last Kiss
My Little Grass Shack
Roses Of Picardy
Sling Your Hook
Why Not Me?
Better Get A Move On
Hot Damn Home Made Wine
Come Up And See Me Anytime [by The Oily Rags]
Scruffy Old Cow
Lazy Cow
Gambler
If I Could Only Play Like That [demo]
Mama And Papa Jazz [demo]
Clive Of India [demo]
Strummin' [demo]
Pay Up And Look Big [live at the Essex Arms, Canning Town]
Gertcha [original version]
Sideboard Song [original version]
It's Only The B-Side
Sunday
Melancholy Baby
In Sickness And In Health [theme tune]
You're Just In Love
Halley's Comet
You Won't See Me [with Lonnie Donegan]
When Days Were Long (But Far Too Short)
About this release
The whole of the UK mourned when Chas Hodges passed away in September 2018, and the parade of stars (including Eric Clapton, Joe Brown, Gary Brooker and Albert Lee) who performed at the tribute concert in December that year is testament to the regard in which Chas and his musical partner Dave Peacock are held.
This ten CD deluxe album-style set includes all nine of their original albums, gathered together in one package for the first time ever: One Fing 'n' Anuvver (1975), Rockney (1977), Don't Give A Monkey's… (1979, and now featuring the four extra tracks on the 7" EP included with the initial pressing), Mustn't Grumble (1981), Job Lot (1982), Well Pleased (1984), Flying (1987), That's What Happens (2013), and A Little Bit Of Us (2018).
Across 107 tracks, these albums feature their hit singles "Gertcha", "Sideboard Song", "Rabbit", "Ain't No Pleasing You", "Margate" and "London Girls".
The tenth disc is a 21 track CD of rarities, many either previously unreleased or very rare. These include the previously unreleased very first two Chas & Dave recordings from May 1973, rare B-sides and demos from the "One Fing 'n' Anuvver" period, a previously unreleased live track recorded in a Docklands pub in 1977, the rare original versions of "Gertcha" and "Sideboard Song", and two rare B-sides on CD for the first time ("It's Only The B-side" and "Sunday") from 1979. The CD ends with the duo's cover of The Beatles' "You Won't See Me" with guest vocals from Lonnie Donegan, and the poignant "When Days Were Long (But Far Too Short)".
The 32-page booklet contains all the credits, as well as photos and memorabilia, including the original handwritten lyrics for "Rabbit" and "Sideboard Song" amongst others, and a 5400 word note by Alan Robinson.