Girls (Tabu Expanded Edition)
General Caine
Girls (Tabu Expanded Edition)
General Caine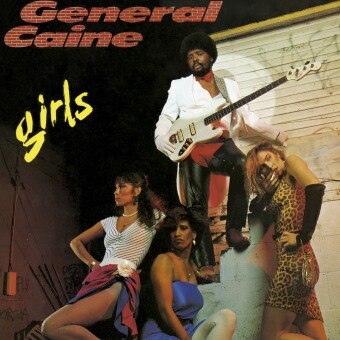 Release information
Release information
Label: Edsel
• Format: CD
• Date: 09/09/2013
Cat#: TABU1022
• Barcode: 5014797139541
• Genre: R&B and Soul
Track Listing
Girls
Can We Warm It Up
Knock Down The Walls
For Lovers Only
Don't Stop
Baseball
Momie Dear
It's Getting Deep
Wait At The Mountain
Girls [7" edit]
About this release
 Founded in 1977, Tabu Records gave the world hugely successful acts like Alexander O'Neal, Cherrelle, the S.O.S. Band, Brainstorm and many others.
James Brown and George Clinton acolyte Mitch McDowell put together the band General Caine in 1978. Issued in 1982, "Girls", their first album for Tabu, has stood the test of time, making it an underground modern funk classic, not to mention a must-have item for P-Funk completists (with its guest appearances), and a holy grail item for crate diggers of early 1980s grooves.
This casebound book edition features the lyrics and newly-authored notes by Melissa Weber, based on 2013 interviews with the late Mitch McDowell's brother Terry McDowell and vocalist Dawn Silva.