Get Close
Pretenders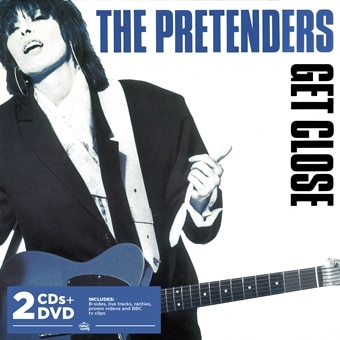 Release information
Release information
Label: Edsel
• Format: CD, DVD & Blu-ray
• Date: 16/02/2015
Cat#: EDSG8050
• Barcode: 740155805036
• Genre: Pop, Rock
Sub Genre: New Wave, Punk
Track Listing
My Baby
When I Change My Life
Light Of The Moon
Dance!
Tradition Of Love
Don't Get Me Wrong
I Remember You
How Much Did You Get For Your Soul?
Chill Factor
Hymn To Her
Room Full Of Mirrors
Dance! [full length version]
Room Full Of Mirrors [extended version]
Tradition Of Love [extended remix]
Thumbelina [live]
Middle Of The Road [live]
Private Life [live]
Dance [take 1]
Don't Get Me Wrong [live in Austin, 1987]
Hold A Candle To This [alternate version]
Worlds Within Worlds
When I Change My Life [alternate version]
Reconsider Me [monitor mix]
Where Has Everybody Gone [from "The Living Daylights"]
If There Was A Man [from "The Living Daylights"]
Windows Of The World [from "1969"]
Have Yourself A Merry Little Christmas
Don't Get Me Wrong
Hymn To Her
My Baby
Don't Get Me Wrong [Wogan, October 1986]
Don't Get Me Wrong [TOTP, October 1986]
About this release
"Get Close", released in November 1986, again featured guitarist Robbie McIntosh, but with a new rhythm section. It was preceded by the hit single "Don't Get Me Wrong" and also included the huge hit "Hymn To Her (She Will Always Carry On)".
The sixteen bonus tracks include b-sides, live tracks, different mixes and versions, as well as the band's two contributions to the soundtrack of Bond film "The Living Daylights", co-written by Chrissie Hynde and John Barry.
Also included is the band's cover of Burt Bacharach's "Windows Of The World" (with Johnny Marr on guitar). The DVD features three promo videos, along with two BBC TV appearances from Top Of The Pops and Wogan. The booklet in this digipak edition features all the lyrics for the first time, the singles sleeves and photos.
CD1 – Get Close (Tracks 1-11)
CD2 – B-Sides (tracks 1-6), Bonus Tracks (tracks 7-12), Songs For Soundtracks PLus (tracks 13-16)
DVD –  Promo Videos (tracks 1-3), Live Appearances (tracks 4-5)
Extra information about this release