Geno Washington Live! (Vinyl)
Geno Washington
Geno Washington Live! (Vinyl)
Geno Washington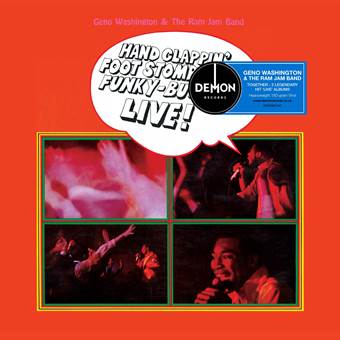 Release information
Release information
Label: Demon Records
• Format:
Cat#: DEMREC187
• Barcode: 5014797895430
• Genre: Blues, R&B and Soul
Track Listing
Philly Dog
Ride Your Pony
Uptight (Everything's Alright)
(I'm A ) Road Runner
Hold On, I'm Comin'
Don't Fight It
Land Of A Thousand Dances Pt. 1
Land Of A Thousand Dances Pt. 2
Respect
Willy Nilly
Get Down With It
Michael (The Lover)
Que Sera Sera
You Don't Know (Like I Know)
Herk's Works
Day Tripper / I Can't Turn You Loose
You Left The Water Running
In The Midnight Hour
Hi-Heel Sneakers
Shotgun
Raise Your Hand
Who's Foolin' Who
Things Get Better
It's A Wonder
She Shot A Hole In My Soul
Wild Thing
About this release
On the live circuit in the late 1960s, Geno Washington & The Ram Jam Band were probably the biggest crowd-pullers of them all. Relentless highenergy rock, blues, soul and R'n'B, and it was their live performances transferred to records that sold in huge numbers rather than the studio recordings.
Released in December 1966, 'Hand Clappin' Foot Stompin' Funky Butt…Live!' peaked at #5 in the Albums Chart and spent an incredible 38 weeks in the chart.
'Hipsters, Flipsters, Finger-Poppin Daddies' immediately repeated the Top 10 feat, peaking at #8.
The concerts all had an electric atmosphere and the crowd would chant Geno's name – later immortalised by Dexys Midnight Runners 1980 number one hit.
180g vinyl LPs, remastered from the 60s tapes.
LP1 – HAND CLAPPIN' FOOT STOMPIN' FUNKY BUTT…LIVE!
LP2 – HIPSTERS, FLIPSTERS, FINGER-POPPIN DADDIES