Geno! The Piccadilly & Pye Studio Recordings
Geno Washington
Geno! The Piccadilly & Pye Studio Recordings
Geno Washington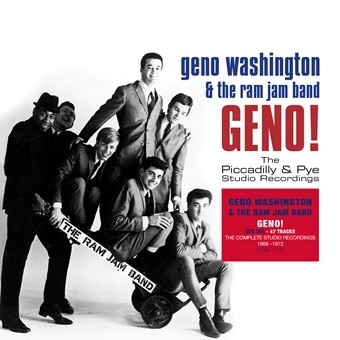 Release information
Release information
Label: Edsel
• Format: CD
• Date: 21/10/2016
Cat#: EDSK7114
• Barcode: 740155711436
• Genre: Blues, R&B and Soul
Track Listing
Water
Understanding
Hi Hi Hazel
Beach Bash
Que Sera Sera
All I Need
Michael
(I Gotta) Hold On To My Love
Always
If You Knew
She Shot A Hole In My Soul
I've Been Hurt By Love
Tell It Like It Is
Girl I Want To Marry You
Raise Your Hand
You Got Me Hummin'
Three Time Loser
Tell It Like It Is
Use Me
Understanding / Turn It Over
Knock On Wood
Bonie Moronie
Never Like This Before
I'm Your Puppet
Who's Foolin' Who
(I Gotta) Hold On To My Love
Different Strokes
You Got Me Hummin'
I Can't Quit Her
Put Out The Fire
Bring It To Me baby
I Can't Let You Go
My Little Chickadee
Seven Eleven
Alison Please
Each And Every Part Of Me
Feeling So Good (Skooby Doo)
Dirty, Dirty
Give 'Em A Hand
If This Is Love (I'd Rather Be Lonely)
Going Back
Listen To My Love Song That Ain't Got A Rhyme
Careful Not To Break The Spell
I Was Kaiser Bill's Batman
Boomerang
She's All I Got
Summer Fever (as Geno & Frenchie)
About this release
Special 2CD Digipak bringing together all of Geno Washington's studio recordings for Piccadilly and Pye Records 1966 – 1972
On the live circuit in the late 1960s, Geno Washington & The Ram Jam Band were probably the biggest crowd-pullers of them all. Relentless high-energy rock, blues, soul and R'n'B, and it was their live performances transferred to records that sold in huge numbers rather than the studio recordings.
Geno Washington & The Ram Jam Band released a string of fine chart singles in 1966 and 1967 – 'Water', 'Hi Hi Hazel', 'Que Sera Sera' and 'Michael (The Lover)' (referenced in Dexys Midnight runners #1 hit 'Geno'). All the A sides and B sides are presented here in chronological order.
After two Top 10 charting 'Live' albums for Piccadilly, the studio album 'Shake A Tail Feather' for Pye Records came at the end of the year.
Disc Two comprises all the singles that followed the album, plus bonus tracks recovered from the vaults thirty years later.
CD1 – The Singles – As and Bs 1966 – 1967
CD2 – The Singles – As and Bs 1968 – 1972