Gene: The Albums SIGNED EDITION (Coloured Vinyl)
Gene
Gene: The Albums SIGNED EDITION (Coloured Vinyl)
Gene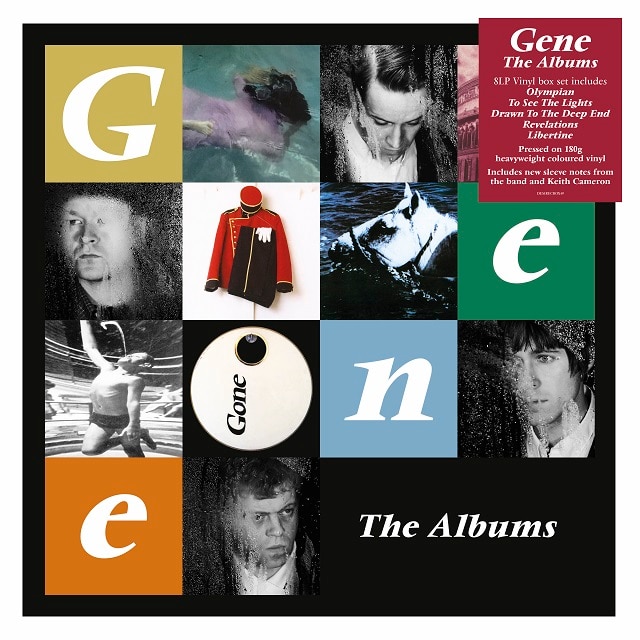 Release information
Release information
Label: Demon Records
• Format: Vinyl
• Date: 21/08/2020
Cat#: DEMRECBOX49X
• Barcode: 5014797903494
• Genre: Pop, Rock
Sub Genre: Britpop
Track Listing
Haunted By You
Your Love, It Lies
Truth, Rest Your Head
A Car That Sped
Left-Handed
London Can You Wait?
To The City
Still Can't Find The Phone
Sleep Well Tonight
Olympian
We'll Find Our Own Way
New Amusements
Fighting Fit
Where Are They Now?
Speak To Me Someone
We Could Be Kings
Why I Was Born
Long Sleeves For The Summer
Save Me I'm Yours
Voice Of The Father
The Accidental
I Love You, What Are You?
Sub Rosa
As Good As It Gets
In Love With Love
Love Won't Work
The British Disease
Fill Her Up
Something In The Water
Mayday
Angel
The Looker
Little Child
Stop
The Police Will Never Find You
You'll Never Walk Again
Does He Have A Name
A Simple Request
Is It Over?
O Lover
Let Me Rest
We'll Get What We Deserve
Walking In The Shallows
Yours For The Taking
You
Spy In The Clubs
Somewhere In the World
Be My Light, Be My Guide
Sick, Sober & Sorry
Her Fifteen Years
Haunted By You (Live - Helter Shelter 6/7/95)
I Can't Decide If She Really Loves Me
To See The Lights
I Can't Help Myself
A Car That Sped (Radio 1 Session 1/2/95)
For The Dead (Version)
Sleep Well Tonight (Live - Forum 31/3/95)
How Much For Love
London, Can You Wait? (Radio 1 Session 18/5/94)
I Can't Help Myself (Radio 1 Session 18/5/94)
Child's Body
Don't Let Me Down (Radio 1 Session 1/2/95)
I Say A Little Prayer (Live - Glastonbury 25/6/95)
Do You Want To Hear It From Me
This Is Not My Crime
Olympian (Live - Forum 31/3/95)
Child's Body (Live - Forum 31/3/95)
About this release
Demon Records presents 8LP Deluxe Edition of the much loved and respected Gene.
Featuring all four studio albums; 'Olympian' (1995), 'Drawn To The Deep End' (1997), 'Revelations' (1999), 'Libertine' (2002) and the 1996 compilation 'To See The Lights'. Each album is presented with original artwork and printed inner sleeves.
Pressed on 180g heavyweight coloured vinyl: Olympian (180g White Vinyl), Drawn to the Deep End (180g Maroon Vinyl), Revelations (180g Green Vinyl), Libertine (180g Pink Vinyl), To See The Lights (180g Gold Vinyl).
Includes a booklet with written notes by each member and a piece by journalist Keith Cameron, who signed the band to his Costermonger label in 1994. This special edition includes a signed art card by the entire band.
Inspired by the songs of The Smiths, The Jam and The Faces, Rossiter's literate vocals and Mason's fluid guitar lines were perfectly complemented by the intuitive rhythm section of Miles and James. They released four studio albums and a collection of B-sides and radio demos between 1995 and 2001, were named Best New Act at the inaugural NME awards in 1995, and went on to score 10 Top 40 hits.