Gene Pitney – Gold
Gene Pitney
Gene Pitney – Gold
Gene Pitney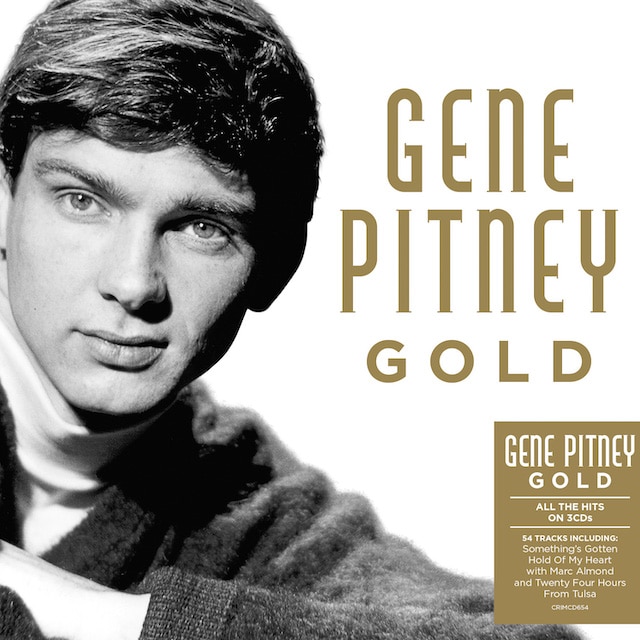 Release information
Release information
Label: Crimson Productions
• Format: CD, Digital
• Date: 03/01/2020
Cat#: CRIMCD654
• Barcode: 654378065422
• Genre: Easy Listening, Pop
Track Listing
Twenty Four Hours From Tulsa
Hello Mary Lou
(The Man Who Shot) Liberty Valance
Something's Gotten Hold Of My Heart
If I Didn't Have A Dime (To Play The Jukebox)
Teardrop By Teardrop
Last Chance To Turn Around
Louisiana Mama
Animal Crackers (In Cellophane Boxes)
(I Wanna) Love My Life Away
Maria Elena
That Girl Belongs To Yesterday
Looking Through The Eyes Of Love
I'm Gonna Be Strong
I'm A Fool To Care (with George Jones)
Backstage
I Should Try To Forget
Billy You're My Friend
Somewhere In The Country
Dream For Sale
Something's Gotten Hold Of My Heart (Marc Almond & Gene Pitney)
Only Love Can Break A Heart
It Hurts To Be In Love
Who Needs It
True Love Never Runs Smooth
Smoke Gets In Your Eyes
Every Breath I Take
(In The) Cold Light Of Day
Donna Means Heartbreak
Shady Lady
A Chance To Belong
Mr. Moon, Mr Cupid And I
She Lets Her Hair Down (Early In The Morning)
I Must Be Seeing Things
Nobody Needs Your Love
Yours Until Tomorrow
I Laughed So Hard I Cried
My Prayer
Town Without Pity
Mecca
The Great Pretender
Half Heaven – Half Heartache
Nessuno Mi Puo Giudicare
Today's Teardrops
I've Got Five Dollars It's Saturday Night
Yesterday's Hero
Princess In Rags
Just One Smile
She's A Heartbreaker
24 Sycamore
Tower-Tall
Little Betty Falling Star
Air-Mail Special Delivery
A Street Called Hope
About this release
Crimson Gold presents Gene Pitney 'Gold', the only Gene Pitney compilation you'll ever need
American singer-songwriter, Gene Pitney, had a career spanning 40 years, achievements include an impressive 11 UK top ten hits and induction into the legendary Rock and Roll Hall of Fame in 2002. Pitney is also known for his writing credits which include the early 60s classics 'Rubber Ball' (recorded by Bobby Vee) and 'Hello Mary Lou' (recorded by Ricky Nelson)
This definitive 3CD set features 54 tracks spanning Pitney's entire career – from early hits such as 'Twenty Four Hours From Tulsa' to his 1989 UK #1 single 'Something's Gotten Hold Of My Heart' with Soft Cell frontman, Marc Almond
CD 1 opens with Pitney's first UK hit single 'Twenty Four Hours From Tulsa' which climbed to #5 in October 1963. Other highlights on this disc include 'Hello Mary Lou', '(The Man Who Shot) Liberty Valance' and Pitney's original version of 'Something's Gotten Hold Of My Heart'.
CD 2 features the hit single 'Something's Gotten Hold Of My Heart' which Pitney recorded with Soft Cell vocalist, Marc Almond. In January 1989, the single reached #1 in the UK charts where it stayed for an impressive 4 weeks. Also included here is 'Only Love Can Break A Heart' which reached #2 in the US charts – only held off from the top spot by the Crystal's 'He's A Rebel' which Pitney himself had written.
CD 3 rounds off the set with a selection of other classic Gene Pitney tracks including 'Town Without Pity', '24 Sycamore' and 'Mecca'.
Highlights are also available on a 1LP version, pressed on 180g gold-coloured vinyl
Extra information about this release