Gary Crowley's Punk and New Wave
Various Artists
Gary Crowley's Punk and New Wave
Various Artists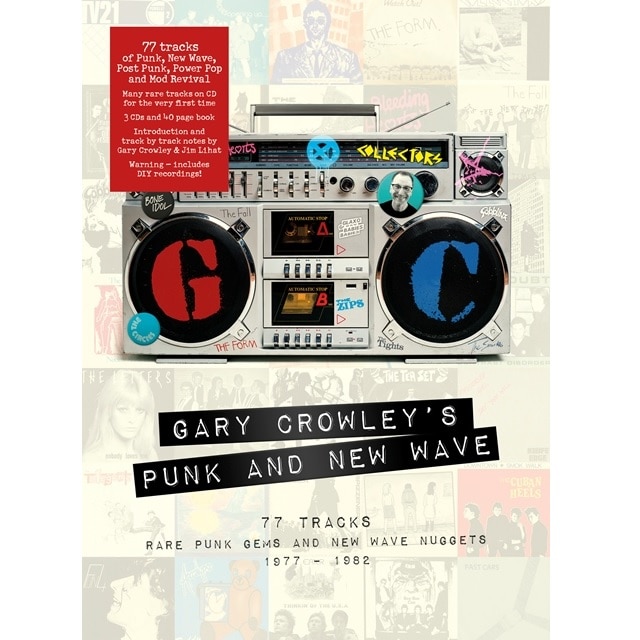 Release information
Release information
Label: Edsel
• Format: CD, Digital
• Date: 15/09/2017
Cat#: EDSL0015
• Barcode: 740155721534
• Genre: Rock
Sub Genre: New Wave, Punk
Track Listing
The Vibrators - We Vibrate
Mo-Dettes - White Mice
Automatics - When The Tanks Roll Over Poland Again
The Saints - Do The Robot
Ultravox! - Young Savage
Scars - All About You
Starjets - School Days
Suburban Studs - I Hate School
Advertising - Lipstick
TV 21 - Ambition
The Nice Men - Nuclear Summer
Eater - Thinking of the USA
Alternative TV - How Much Longer
999 - Emergency
Altered Images - Dead Pop Stars
The Stiffs - Inside Out
The Carpettes - Small Wonder
The Fall - It's The New Thing
The Drones - Bone Idol
Skunks - Good From The Bad
The Nips - All The Time In The World
The Boys - First Time
Bee Bee Cee - You Gotta Know Girl
The Circles - Opening Up
Glaxo Babies - This Is Your Life
John Cooper Clarke - Suspended Sentence
Fast Cars - The Kids Just Wanna Dance
New Hearts - Just Another Teenage Anthem
Clive Culbertson - Time To Kill
The Only Ones - You've Got To Pay
Lori And The Chameleons - Touch
The Things - Pieces of You
The Negatives - Love Is Not Real
The Photos - Barbarellas
Expressos - Tango in Mono
The Stukas Klean Living Kids
Tonight - Drummer Man
The Quads - There Must Be Thousands
Shake - Culture Shock
Girls At Our Best - Getting Nowhere Fast
The Cuban Heels - Downtown
The Donkees Listen To Your Radio
Spizzenergi - Soldier Soldier
The Telegents - Get Out
The Collectors - Talking Hands
The Stripes - One Step Ahead
The Doubt - Time Out
Bobalouis - Go Ahead
The Letters - Nobody Loves Me
Perfectors - YT502951D
Fun 4 - Singing In The Showers
Tours - Language School
The Skids - Charles
The Tights - Howard Hughes
The Form - Start Again
The Head - Nothing To Do In a Town Like Leatherhead
Pop Tones - Wooden Heart
Disguise - Juvenile Delinquent
Dolly Mixture - Been Teen
The Teenage Filmstars - Helped Patrick McGoohan Escape
Apocalypse - Teddy
Tinopeners - Set Me Free
The Plague - In Love
The Crack - Easy Street
The Smirks - Angry With Myself
Straightshooter - She's So Fine
Bleeding Hearts - This is the Way...OK?
Apartment - The Car
Knife Edge - Say You Will
The Tea Set - Parry Thomas
The Zips - Take Me Down
Really 3rds - Everyday, Everyway
The Kicks - If Looks Could Kill
TPI - She's Too Clever For Me
Gobblinz - Love Me Too
The Moondogs - She's Nineteen
Generation X - Wild Dub
About this release
"Ever get the feeling you've been treated? Well how does a dynamite selection of 77 Punk and New Wave treasures grab you? These aren't the usual classic anthems; this is a mix from the heart chosen by yours truly, Gary Crowley, and my broadcasting better half/ buddy Jim Lahat.".
77 tracks of Punk, New Wave, Post Punk, Power Pop and Mod Revival originally released between 1977 – 1982 including many for the first time on CD. Some of these tracks are super-rare and very hard to find having only been pressed on very limited 7" singles.
Media book format package, with 3 CDs and 40 page book
Introduction and track by track notes by Gary Crowley and Jim Lahat, plus punk memories from Richard Jobson (The Skids), Clare Grogan (Altered Images), Duncan Reid (The Boys), Jane Perry Woodgate (The Mo-Dettes) and Spizz.
"That is what Punk has always meant to us. It was about innovation and moving forward. We loved the look, the attitude, the edge and the back to basics approach. We were the audience and the bands were mostly the same age as us. The energy and excitement feeding from stage to fans and back again was palpable….. This box set is a testament to the vital role that Punk music, and all that it spawned, has played in each of our lives."
Extra information about this release