Gary Crowley's Lost 80s (Coloured Vinyl)
Various Artists
Gary Crowley's Lost 80s (Coloured Vinyl)
Various Artists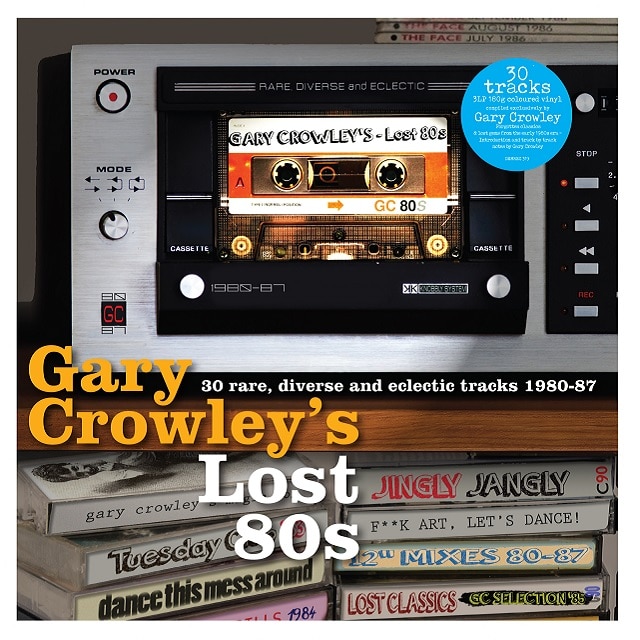 Release information
Release information
Label: Demon Records
• Format: Vinyl
• Date: 22/02/2019
Cat#: DEMREC319
• Barcode: 5014797898189
• Genre: Alternative, Pop, R&B and Soul, Rock
Sub Genre: New Wave, Punk
Track Listing
Vic Godard - Stop That Girl
The Pale Fountains - (There's Always) Something On My Mind
Haircut 100 - Milk Film
Aztec Camera - Pillar To Post
The Bluebells – Everybody's Somebody's Fool
Prefab Sprout - Lions in My Own Garden (Exit Someone)
Fantastic Something - If She Doesn't Smile (It'll Rain)
The Suede Crocodiles - Stop The Rain
Friends Again - Honey At The Core
Strawberry Switchblade - Trees And Flowers
April Showers - Abandon Ship
Paul Quinn - Ain't That Always The Way
Bush Tetras - Too Many Creeps
Bow Wow Wow - Mickey Put It Down
The Apollinaires - The Feeling's Gone
The Redskins - Keep On Keeping On
JoBoxers - Is This Really The First Time You've Been In Love
Hey! Elastica - This Town
Spandau Ballet - Confused
Depeche Mode - Shake The Disease
Paul Haig - Running Away
The Questions - Tuesday Sunshine (Jock Mix)
Altered Images - Love To Stay
Wham! - A Ray Of Sunshine
Grandmaster Flash - The Adventures Of Grandmaster Flash On The Wheels Of Steel
Tom Tom Club - Genius Of Love
Whodini - Magic's Wand [Special Extended Mix]
Blue Rondo à la Turk – Klacto Vee Sedstein
Pigbag - The Big Bean
Funkapolitan - If Only
The Staple Singers - Slippery People [Club Version]
About this release
Lost 80s presents 30 tracks compiled by Gary Crowley across three 'themed' LPs, from 'Jingly Jangly' indie-pop 7"s to the edge of the New Romantic, and Dance grooves. Many of these tracks are rare and very hard to find having not appeared on CDs or LPs since the original 80s releases. The better known artists that do appear here are represented by some of their lesser-known ('lost') tracks.
"The 80s (and especially the first part) was an amazing time for music. It was a mad, fast, kaleidoscopic rollercoaster ride where the chancers taking your money not only walked the walk; they backed it up with innovative, amazing tunes that changed the way music was made forever. That's certainly how I remember it…" Gary Crowley
Presented across 3 x Heavyweight 180g pieces of coloured vinyl, and including an introduction and track by track notes by Gary Crowley, plus memories of the era from Nick Heyward (Haircut 100), Sarah Dallin (Bananarama), Gary Kemp (Spandau Ballet) Annabella Lwin (Bow Wow Wow), Clare Grogan (Altered Images) and more.
"So here, spread over these three LPs, I've collected together the best (in my personal opinion) of the guitar bands, the dance acts and the synth groups that made up the soundtrack of that gloriously thrilling decade for me and my friends. Let me just state for the record, you'll find no Michael Jackson, Madonna, Prince, Duran Duran, Dire Straits or the like appearing on these discs…"
Extra information about this release