From Beginning To End…
The End
From Beginning To End…
The End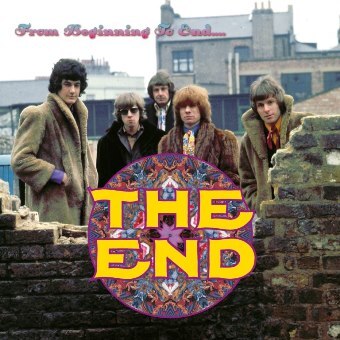 Release information
Release information
Label: Edsel
• Format: CD, Digital
• Date: 04/12/2015
Cat#: EDSB4028
• Barcode: 740155402839
• Genre: Rock
Track Listing
I Can't Get Any Joy
Hey Little Girl
I Want You Around
I Can't Believe It
Lost Without You
Baby Stay Like You Are
It Won't Be Long
She Believed Me
I Got Wise
You're So Right
You Better Believe It Baby
Please Do Something
Why
Yo-Yo
Searching For My Baby
Daddy Loves Baby
We've Got It Made
Shades Of Orange [November 1967 mix]
Dreamworld
Under The Rainbow
Shades Of Orange [album version]
Bromley Common [talk]
Cardboard Watch
Introspection [Part 1]
What Does It Feel Like?
Linen Draper [talk]
Don't Take Me
Loving, Sacred Loving
She Said Yeah
Jacobs Bladder [talk]
Introspection [Part 2]
Shades Of Orange [mono single version]
Loving, Sacred Loving mono single version]
Loving, Sacred Loving [February 1968 mix]
Building Up A Dream
Little Annie
Morning Dew
Tears Will Be The Only Answer
Today Tomorrow
Lady Under The Lamp
Black Is Black
Mister Man
Call Me
Shades Of Orange [June 1968 remix]
Mirror
We've Got It Made [Mellotron Mix]
Bypass The By-Pass
Mister Man [instrumental version]
The Fly
Sometimes I Wish I Were Dead
Stones In My Banana
Son Of Lightning
Second Glance
Mistress Bean
For Eleanor
So Free
North Thames Gas Board
Do Right Woman Do Right Man
Turn On Waterstone
Smartypants
My Friend
About this release
In 1965 The End arose from the glowing embers of the earlier Tuxedos, Innocents and Original Topics, and like many of their contemporaries evolved into a psychedelic group. Along the way, they won the support and patronage of the Rolling Stones' Bill Wyman, who produced their sole album for Decca, "Introspection" (CD2). He also co-wrote their signature tune, the psychedelic classic "Shades
Of Orange", although the band wrote the rest of their material.
This 4 CD clamshell box set gathers together all of The End's extant recordings, the material on CDs 1, 3, and 4 having only previously
been released on vinyl in the '90s. CD 1 covers the early days from 1964 to 1967, CD 2 is the 1968 "Introspection" album with two bonus tracks, CD 3 features outtakes (including four previously unreleased bonus tracks) from the period 1968/69, while CD 4 rounds up the band's recordings from 1969/70, before they reinvented themselves as Tucky Buzzard.
This box set also contains a booklet with artwork by legendary designer Phil Smee, including photos and ephemera, a note by founder member Colin Giffin, and the band's comprehensive story written by David Wells.
CD1 – In The Beginning (1964-67)
CD2 – Introspection (1968-69)
CD3 – Retrospection (1968-69)
CD4 – The Last Word (1969-70)