Foster & Allen: The Ultimate Collection
Foster & Allen
Foster & Allen: The Ultimate Collection
Foster & Allen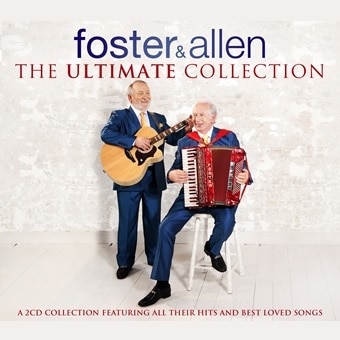 Release information
Release information
Label: DMG TV
• Format: CD
• Date: 12/11/2012
Cat#: DMGTV050
• Barcode: 5014797760509
• Genre: Country, Easy Listening
Track Listing
A Bunch Of Thyme
Old Flames
Maggie
Gentle Mother
Walk Tall
I Can't Stop Loving You
Power To All Our Friends (featuring Daniel O'Donnell)
It's Now Or Never
Seven Old Ladies
The Fields Of Athenry
Dream Baby
Strangers In The Night
A Tribute To Tommy Makem
I Will Love You All My Life
Happiness
When You Were Sweet Sixteen
The Happiness Of Having You
My Eileen Is Waiting For Me
The Bluebell Polka (featuring Jimmy Shand)
Just For Old Times Sake
After All These Years
The Young Ones
True Love (featuring Gloria Hunniford)
The Wild Rover
Remember Me
Hello, Mary Lou
Unchained Melody
The Blacksmith
A Mother's Way
Things
Emigrants Eyes
The Old Rustic Bridge By The Mill
Silver Threads Among The Gold
After The Ball
The Old Bog Road
No One Will Ever Know
Mursheen Durkin
The Old Rugged Cross
The Blind Date
A Little Peace
Maggie (new version 2012)
About this release
Since the start of this millennium, Mick Foster and Tony Allen have sold more than 1 million albums in the UK and with the release of The Ultimate Collection – they are on course to extend their run of success in the UK Artist Albums Chart, which stretches back to 1983 but which was preceded by their first appearance on Top of The Pops in April 1982.
The Ultimate Collection is their first best of for nine years and is a 41-track, 2CD set, featuring all of their best known and loved songs, including "A Bunch Of Thyme", "Maggie" and "The Fields Of Athenry". Also featured on the album are twelve new recordings, including an exclusive duet with Daniel O Donnell on "Power To All Our Friends" and a brand new version of Maggie.
Having sold almost 20 million albums worldwide, Foster & Allen have not forgotten their fans, who have enjoyed listening to their music and watching them perform over the last 30 years or so.
Recommended titles