Five Star Luxury – The Definitive Anthology 1984-1991
5 Star
Five Star Luxury – The Definitive Anthology 1984-1991
5 Star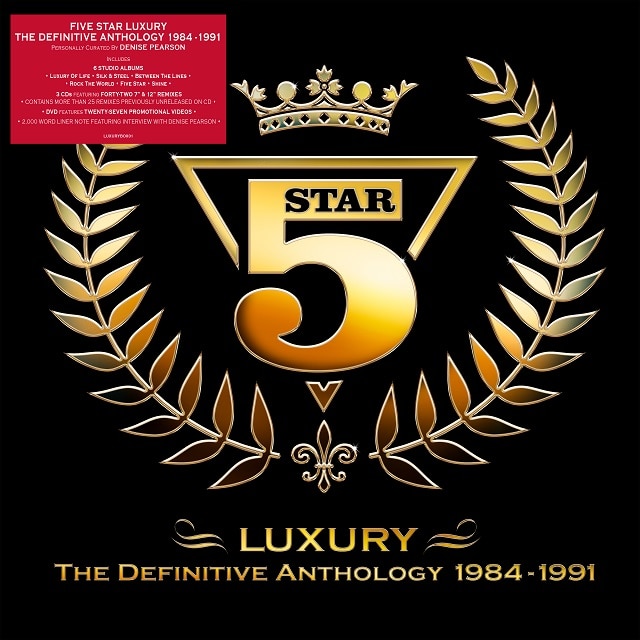 Release information
Release information
Label: Edsel
• Format: CD
• Date: 13/07/2018
Cat#: LUXURYBOX01
• Barcode: 5014797897618
• Genre: Pop
Track Listing
Love Take Over
All Fall Down
Let Me Be The One
System Addict
Hide And Seek
R.S.V.P.
Now I'm In Control
Say Goodbye
Crazy
Winning
I'm Gonna Make This A Night You Will Never Forget
I Like The Way You Dance [Five Star Orchestra]
First Avenue [Five Star Orchestra]
Beat 47
Keep In Touch
Love Games
Pure Energy
Can't Wait Another Minute
Find The Time
Rain Or Shine
If I Say Yes
Please Don't Say Goodnight
Stay Out Of My Life
Show Me What You've Got For Me
Are You Man Enough?
The Slightest Touch
Don't You Know I Love It
Sky
Summer Groove
Let Me Down Easy
(How Dare You) Stay Out Of My Life
Stone Court
Somewhere, Somebody
Whenever You're Ready
Strong As Steel
Read Between The Lines
Live Giving Love
Ain't Watcha Do
Made Out Of Love
You Should Have Waited
Knock Twice
Hard Race
Forever Yours
The Man
Have A Good Time
Another Weekend
Rock My World
Godsend
Are You Really The One
Let Me Be Yours
Free Time
Physical Attraction
Someone's In Love
There's A Brand New World
Rescue Me
The Mews
Sweetest Innocence
U
Rescue Me [Instrumental Version]
Rare Groove [12" Version]
With Every Heartbeat [7" Mix]
Sound Sweet
Something About My Baby
Treat Me Like A Lady
Hot Love
I Can Show You Love
Feelings
Feel Much Better
I'm Still Waiting
That's The Way I Like It
Lost In You
Tienes Mi Amour
What About Me Baby?
Don't Stop
Act One [7" Version]
Treat Me Like A Lady [Tough Mix]
Hot Love [Extended Version]
Shine
Come To Me (For Love)
Some Kind Of Magic
Love Can't Wait
The Love You Bring To Me
Right Over
The Start Of Forever
I Really Did It This Time
Sentimental
Save A Place (In Your Heart For Me)
Shine [LP Edit]
Shine [New Jack Mix Edit]
Hide And Seek [7" Version]
Let Me Be The One [7" Version]
R.S.V.P. [7" Version]
Can't Wait Another Minute [The 7" Remix Version]
Find The Time [7" Version]
Rain Or Shine [7" Version]
If I Say Yes [7" Edit]
The Slightest Touch [Shep Pettibone 7" Mix]
Are You Man Enough? [Shep Pettibone 7" Mix]
Strong As Steel [7" Version]
Somewhere, Somebody [7" Version]
Another Weekend [US 7" Version]
Someone's In Love [David Morales US 7" Radio Mix]
There's A Brand New World [7" Version]
Treat Me Like A Lady [Raw 7" Version]
Hide And Seek [Dub Mix]
Crazy [Crazy Mix] [Instrumental]
Let Me Be The One [Long Hot Soulful Summer Mix] feat. Grover Washington Jr.
Love Take Over [Dub Take Over]
R.S.V.P. [Original Philly Mix]
Can't Wait Another Minute [The Street-Groove Mix Version]
Find The Time [Instrumental Mix]
Rain Or Shine [Dub]
Can't Wait Another Minute [Dub Mix]
If I Say Yes [Dub Mix]
The Slightest Touch [House Touch]
Are You Man Enough? [12" Dub Remix]
Can't Wait Another Minute [Another Minute Of Breakdown]
All Fall Down [M & M Dub Mix]
Let Me Be The One [Philadelphia Mix Edit] feat. Grover Washington Jr.
Love Take Over [The Limit Edition Mix Edit]
Can't Wait Another Minute [The M-Groove Mix Version]
Find The Time [Dub Mix]
Whenever You're Ready [Crazy Dub Jammy]
Somewhere Somebody [Dub Remix]
Another Weekend [Friday Night Mix]
Rock My World [Extra-Terrestrial Mix]
Someone's In Love [Some Dub Mix]
With Every Heartbeat [Dub]
Somewhere Somebody [Dub Beats]
Someone's In Love [LP Remix]
Are You Man Enough? [Acapella Groove]
Hide And Seek [Promo Video]
Crazy [Promo Video]
All Fall Down [Promo Video]
Let Me Be The One [Promo Video]
Love Take Over [Promo Video]
R.S.V.P. [Promo Video]
System Addict [Promo Video]
Can't Wait Another Minute [Promo Video]
Find The Time [Promo Video]
Rain Or Shine [Promo Video]
If I Say Yes [Promo Video]
Stay Out Of My Life [Promo Video]
The Slightest Touch [Promo Video]
Whenever You're Ready [Promo Video]
Strong As Steel [Promo Video]
Somewhere, Somebody [Promo Video]
Another Weekend [Promo Video]
Rock My World [Promo Video]
There's A Brand New World [Promo Video]
Let Me Be Yours [Promo Video]
With Every Heartbeat [Promo Video]
Treat Me Like A Lady [Promo Video]
Hot Love [Promo Video]
Shine [Promo Video]
Another Weekend [12" Version] [Promo Video]
Treat Me Like A Lady [12" Version] [Promo Video]
Treat Me Like A Lady [US Version] [Promo Video]
About this release
Edsel is pleased to announce the release of a comprehensive Five Star box set, which has been personally curated by DENISE PEARSON.
Five Star were managed by their Father, Buster Pearson who harboured the idea that his talented children could be the UK's 1980s version of an older Jackson 5. Following an appearance on BBC One's Pebble Mill in 1983, Five Star signed to RCA Records then spent 1984 honing their craft and performing at numerous club PAs around the country. They were rewarded in May 1985 with their debut hit 'All Fall Down', which reached #15 in the UK Singles Chart taken from the debut album 'Luxury Of Life', from which SEVEN singles were released. It was the final single from the album, 'System Addict', that charted the highest from the album and which started a run of nine consecutive Top 20 hits.
This 9CD /1DVD set housed in a sumptuously packaged 12″x12″ Deluxe Casebound Book, comprising the SIX studio albums from their international hit-laden recording periods with RCA Records and Epic Records.
All six albums feature extra tracks, including non-album B-Sides, with the remaining three CDs containing 7″ & 12″ Alternate Versions and Remixes. The DVD features a number of Promotional Videos. RCA, Epic and Buster Pearson lined-up a stellar host of the most prolific Producers of the time to work with the Group. Nick Martinelli, Leon Sylvers III, Denis Lambert, Barry Blue, The Limit, Steve Harvey, Billy Livsey, Richard 'RAH Band' Hewson, Christopher Troy, Zack Harmon, Michael Jay, Wayne Braithwaite and Ian Prince, with Shep Pettibone, Morales & Munzibai and Paul Hardcastle mixing. There was no end of talent queuing up to work with Five Star.
The release features the original album tracklistings plus B-Sides, a multitude of alternate mixes, instrumental versions and more than 25 mixes previously unreleased on CD, bringing a two label collection together from the band's internationally successful career, for the very first time.
'Luxury…' features all Twenty-One UK Top 75 singles, including the Top 10 hits 'System Addict' #3, 'Can't Wait Another Minute' #7, 'Find The Time' #7, 'Rain Or Shine' #2, 'Stay Out Of My Life' #9, 'The Slightest Touch' #4, as well as their other Top 30 hits 'All Fall Down', 'Let Me Be The One', 'Love Take Over', 'If I Say Yes', 'Whenever You're Ready', 'Strong As Steel', 'Somewhere Somebody', 'Another Weekend', 'Rock My World'. • This deluxe set features a 2,000 word recollection, with Denise Pearson interviewed by Record Collector Editor, Paul Lester.
CD1 – Luxury Of Life
CD2 – Silk & Steel
CD3 – Between The Lines
CD4  – Rock The World
CD5 – Five Star
CD6 – Shine
CD7 – 7″ Mixes
CD8 – 12″ Mixes #1
CD9 – 12″ Mixes #2
**DVD – Promo Videos
*PLEASE NOTE THAT THE AMAZON EXCLUSIVE STICKER IS FOR ILLUSTRATIVE PURPOSES ONLY AND DOES NOT APPEAR ON THE FINISHED PRODUCT*
**The DVD will be NTSC Region '0'
Extra information about this release