First & Never Let Her Go & Goodbye Girl & Falling In Love Again
David Gates
First & Never Let Her Go & Goodbye Girl & Falling In Love Again
David Gates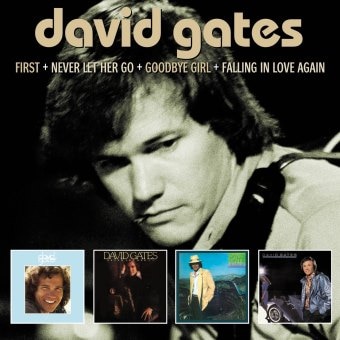 Release information
Release information
Label: Edsel
• Format: CD
• Date: 30/09/2013
Cat#: EDSK7034
• Barcode: 740155703431
• Genre: Blues, Easy Listening
Track Listing
Sail Around The World
Sunday Rider
Soap (I Use The)
Suite: Clouds, Rain
Help Is On The Way
Ann
Do You Believe He's Comin'
Sight & Sound
Lorilee
Never Let Her Go
Angel
Playin' On My Guitar
Watch Out
Part Time Love
Chain Me
Light Of My Life
Someday
Greener Days
Strangers
Goodbye Girl
Took The Last Train
Overnight Sensation
California Lady
Drifter
He Don't Know How To Love You
Can I Call You
Where Does The Loving Go
20th Century Man
She Was So Young
Silky
Falling In Love Again
Starship Ride
Chingo
Sweet Desire
The Rainbow Song
About this release
• A founder member of Bread, David Gates was responsible writing and singing all of their hits. When Bread broke up in
1973 after five hugely successful albums, Gates immediately embarked on a solo career, although he was accompanied by
former band-mates Mike Botts and Larry Knechtel, as well as the cream of LA's session musicians.
• This slipcased package contains the four solo albums that Gates recorded during the 70s, along with all the lyrics and
annotation by Alan Robinson.
• "First" includes the sumptuous "Suite: Clouds, Rain", while the title track of "Never Let Her Go" was a hit. After Bread reunited
for a final album in 1976, Gates resumed his solo career with the hit "Goodbye Girl" from Neil Simon's film of the same name
(recently covered by Rumer), and fourth album "Falling In Love Again" in 1980.