Fearless (Vinyl)
Eighth Wonder
Fearless (Vinyl)
Eighth Wonder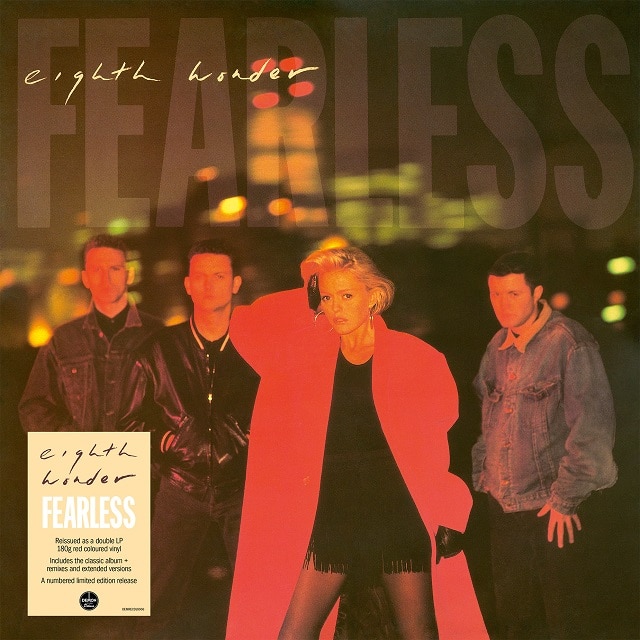 Release information
Release information
Label: Demon Records
• Format: Vinyl
• Date: 06/07/2018
Cat#: DEMRECDLX006
• Barcode: 5014797897045
• Genre: Pop
Track Listing
Cross My Heart
When The Phone Stops Ringing
Baby Baby
Will You Remember
Wild Love
I'm Not Scared
Use Me
Anything At All
My Baby's Hearthbeat
The Dress
I'm Not Scared (Disco Mix)
Baby Baby (Dance Mix)
Will You Remember (Extended Mix)
Having It All (Extended Remix)
Cross My Heart (Dance Mix)
Use Me (Remix)
(Extended Remix)
Stay With Me (Extended)
About this release
Continuing the successful Demon Records Deluxe range, the next title is Eighth Wonder's debut classic 80s Pop album Fearless. Headed up by future model and actress Patsy Kensit, the band had global success on home soil but more notably in Japan and Italy. Single such as Will You Remember? and Stay With Me, which performed poorly in the UK, would go on to be smash hits in Japan and Italy.
This collection includes the UK Top 20 singles 'I'm Not Scared' (#7) and 'Cross My Heart' (#13).
Packaged as a limited numbered double-LP gatefold with printed inner sleeves with lyrics, on heavyweight red vinyl. This double LP contains the classic album along with a bonus LP of singles and remixes.